Burma election: Q&A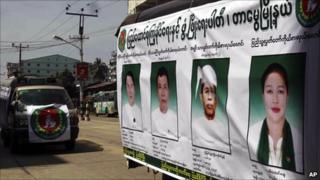 The people of Burma voted in national elections on 7 November for the first time in 20 years. Ruling generals say the polls mark a transition to democratic civilian rule - but critics say they will leave the military junta firmly in control. Formal results have not yet been released. The BBC looks at the key questions.
Why were elections held?
Burmese voters last got a chance to cast their ballots in 1990, when they overwhelmingly backed Aung San Suu Kyi's National League for Democracy (NLD). But the ruling generals never allowed the NLD to take power. Instead they detained Ms Suu Kyi and embarked on what they called a "roadmap to democracy", starting with a national convention to write a new constitution. The constitution was enacted two years ago and these polls were the culmination of the generals' stated aim to create a "discipline-flourishing democracy" that they say will return the country to civilian rule.
Who was being elected?
More than 29 million voters were eligible to elect representatives to a two-chamber parliament and 14 regional assemblies. The lawmakers will then elect a president and two vice-presidents; the president will make ministerial and other key appointments. More than 3,000 candidates contested about 1,160 seats across all the assemblies.
What role will the military have?
Under the new constitution, 25% of seats in all chambers are reserved for the military. Any constitutional change requires a parliamentary majority of more than 75% - meaning that the military will retain a casting vote. Three key ministerial posts - interior, defence and border affairs - must be held by serving generals.
The two main parties that contested the polls, moreover, are closely linked to the military. The Union Solidarity and Development Party (USDP), which contested every seat, is led by former junta officials who have only in recent weeks given up their military rank to run as civilians. The National Unity Party (NUP), which contested 999 seats, is led by a former deputy leader of the armed forces.
These parties enjoyed considerable campaign advantages - such as access to state funds, facilities and media - to get their message across. Two-thirds of all candidates represented these two parties, and some ran unopposed. Ranks of successful candidates are expected to swell the military presence in parliament - although formal results have not been released, the USDP says it won 80% of the vote.
And it is not beyond the bounds of possibility that top general Than Shwe, who is not running in the polls, could be elected president by parliament, leaving the post-election leadership looking very familiar.
What about the NLD?
The NLD was forcibly disbanded after it decided to boycott the polls. It could have taken part if it expelled Ms Suu Kyi, who like many other key pro-democracy figures was banned under election laws from participating because of convictions linked to her activism (and also because she was married to a Briton). The NLD would also have had to accept the junta's decision to annul its 1990 poll victory.
Ms Suu Kyi recommended a boycott. And under the election laws, any party that chose not to take part in the polls had to disband.
So who challenged the military-linked parties?
Some democrats argued that however flawed the election process, they stood more to gain by engaging with it than boycotting it. They believed some level of representation in parliament would be better than none at all. A group of former NLD members, therefore, formed a new party, the National Democratic Force (NDF), which contested the election in 163 constituencies. But this meant that the opposition vote could be split between those who respected Ms Suu Kyi's call for a boycott and those who backed the breakaway group.
Other smaller groups and more than 80 independents also ran. All said they struggled to meet high registration costs, limiting the number of candidates they can field, and many complained of harassment on the campaign trail.
What about the ethnic parties?
Several parties were formed that represented the different ethnic groups that live in Burma's border regions. The largest of these, the Shan Nationalities Democratic Party (SNDP), fielded a total of 157 candidates. But other groups - some of whom are battling the junta - boycotted the polls. And in some areas polling did not take place because Burmese authorities said it was too dangerous. More than 1.5 million ethnic voters were disenfranchised by this ruling.
Was voting free and fair?
It was clear that the junta wanted its citizens to turn out. Ahead of the polls, state-run media published commentaries telling people it was their duty to vote and even suggesting that the military would remain in power if turnout was not deemed adequate.
Whether voters were allowed to boycott the polls or cast their ballots freely on the day was hard to tell. International observers and foreign journalists were not allowed into the country for the polls. In the run-up to voting, however, there were reports of residents in some areas being promised incentives such as roads and facilities if they backed junta-linked parties. And at least six political parties have made formal complaints to the Election Commission, citing the practice of advance voting, in which government workers - civil servants and soldiers - were escorted to polling booths in the days before the poll. "We took the lead at the beginning but the USDP later came up with so-called advance votes and that changed the results completely, so we lost," said NDF leader Khin Maung Swe.
So the election was a sham?
Most observers expected that the election would leave the military fully in charge of the country, albeit in partial civilian garb. Formal results have not yet been released but it seems clear that military-linked parties expect to take the bulk of the seats in parliament.
Many Western governments say the election was neither free nor fair. UN Secretary General Ban Ki-moon has described it as insufficiently inclusive and transparent.
Some, however, say that the election constituted a beginning. They say that opposition representation in parliament, however small, will be progress and that having a seat at the table could lead to change, even if not in the short term. Once formal election results are released it will be clear what level of representation opponents of the government will have.