Press see Kuril visit as major step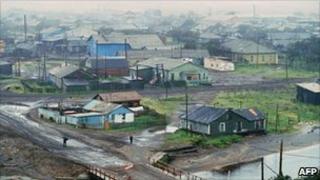 Press editorials and commentaries in Russia, Japan and China all agree that the visit of Russian President Dmitry Medvedev to one of the Kuril Islands is a major development in the long-running dispute with Japan.
Some Russian papers were concerned that President Medvedev might receive a hostile reception at the forthcoming APEC summit in Yokohama.
Several Japanese newspapers accused their own government of foreign policy blunders over Russia, and called for closer ties with the United States.
The Chinese press, in common with some Japanese papers, drew parallels with Japan's dispute with China over the Senkaku/Diaoyu islands in the East China Sea.
Ivan Gordeyev in Russia's Vremya Novostei
"Dmitry Medvedev's forthcoming trip to an APEC summit in Yokohama... promises to be not only interesting but also dangerous... there can be no doubt that the people of the Land of the Rising Sun will try to demonstrate their disagreement to Mr Medvedev personally, and the presidential staff and security services will have to work in an atmosphere similar to that on a battlefield... Mr Medvedev made a defiant move in relation to the Russian-Japanese talks, which have been going on for many years already. Possibly a desire to ensure that our neighbours entertain no illusions and to continue talks from a realistic position played a part in this."
Russia's Izvestiya
"In a few days' time Dmitriy Medvedev is expected to attend an APEC summit in Yokohama. Because of the deteriorating situation, the Russian leader could face embarrassment there, if not from the authorities, then from extremists."
Andrei Terekhov in Russia's Nezavisimaya Gazeta
"Tokyo's sharp reaction seems to be meant for the Japanese electorate rather than Moscow. The government had to react to the first-ever visit of a Russian leader to the islands for domestic political considerations."
Andrei Baranov in Russia's Komsomolskaya Pravda
"These islands have always been part of our common Russian home, despite neighbouring Japan's incessant attempts to dispute ownership of the islands. Medvedev is first leader of the country to visit this remote region. Neither tsars nor Communist Party general-secretaries visited them... during the 'wild 1990s' Moscow simply forgot about its eastern outpost... but in the last few years the situation has started to improve and increased investment in the region has made it possible to restore industry and build housing."
Japan's Yomiuri Shimbun
"Russia has put pressure on Japan over its call for the return of the four northern islands by taking advantage of confusion caused by the Democratic Party of Japan-led government's diplomacy... there is a pressing need to rebuild Japan's diplomacy in its entirety, based on the alliance with the United States... this leaves Japan no choice other than to brace itself for quite a long campaign to resolve the northern territorial issue."
Japan's Asahi Shimbun
"The president visited the island in a disorderly manner, and it may spoil the results of the bilateral talks the two countries have held... Russia might have decided to put pressure on Japan over the territorial row because of the row with China over the Senkaku Islands."
Japan's Nihon Keizai Shimbun
"There is no doubt that Medvedev's visit to the island has rattled the nerves of the Japanese people, and their sentiments towards Russia will further worsen... behind Medvedev's visit, despite Japan's warning, is the DPJ-led administration's inept handling of diplomacy towards Russia, and the scant attention it has paid to the country."
Japan's Mainichi Shimbun
"Medvedev's Kuril visit will make it more difficult to conduct bilateral territorial talks... The [Japanese Prime Minister Naoto] Kan administration must solidify a comprehensive diplomatic strategy centred on rebuilding Japan's ties with the United States."
Japan's Sankei Shimbun
"Medvedev's visit to Kuril is an outrageous attempt illegally to occupy the four northern islands, which are an integral part of Japan's sovereign territory, and the visit must not be tolerated in any way... If Kan fails to discuss Medvedev's outrageous visit to the island frankly [at the APEC summit], and if he fails to draw the world's attention to the territorial row, it could lead to serious problems in the future."
Japan's Tokyo Shimbun
"The president's visit to one of the Kuril Islands is an outrageous act that could undermine progress in the Japan-Russia relationship... there is a need to re-examine and rebuild Japan's diplomacy, amid growing pressure on Japan from the neighbouring countries."
Japan correspondent Pei Jun in China's Zhongguo Qingnian Bao
"The Japanese government, which is in a terrible fix over the Diaoyu Islands issue, has run into new problems. Russian President Medvedev visited the islands... dealing a staggering blow to Japan... Relations with China have still not been resolved, and now relations between Russia and Japan have become strained. One can say that the Naoto Kan government is besieged on all fronts."
Zhang Quan in China's Shanghai's Jiefang Ribao
"The Russian president's high-profile landing on the islands was intended to show a diplomatic stance of 'looking East', while using a hardline approach to repair Russia's position and put pressure on the young Kan cabinet, in order to test the reaction of the US-Japan alliance."
Hong Kong's Ming Pao
"Medvedev's move has fully shown the importance of actual control over regions with disputed sovereignty. It shows that China must change course on sovereignty disputes. It cannot rely solely on oral declarations of sovereignty and must take specific action."
BBC Monitoring, based in Caversham in southern England, selects and translates information from radio, television, press, news agencies and the Internet from 150 countries in more than 70 languages.