Final Kyrgyzstan election results announced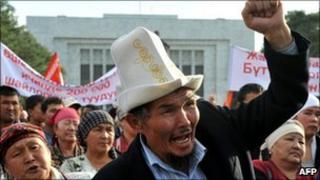 Five political parties will be represented in Kyrgyzstan's new parliament, according to the official results of the 10 October election.
The opposition nationalist party, Ata Zhurt, had the most votes but failed to win an outright majority. Parties will now have to form a governing coalition.
The final results were delayed while officials investigated fraud claims.
It follows months of political turmoil after President Kurmanbek Bakiyev was ousted in a mass uprising in April.
The country also witnessed bloody clashes in the south between Kyrgyz majority and ethnic Uzbeks, in which at least 400 died.
In June a new constitution introducing a parliamentary system was approved in a referendum.
Kyrgyzstan is trying to build the first parliamentary democracy in Central Asia, which is dominated by post-Soviet era stongmen.
Coalition cabinet
Five out of 29 parties passed the 5% threshold to win seats in the new parliament, but none won enough to form a government.
"Two pro-government parties - Ata-Meken and the Social Democratic Party - and also three opposition parties - Ar-Namys, Ata Zhurt and Respublika - will join the newly-elected parliament," said the head of the Central Election Commission, Akylbek Sariyev.
The opposition hardline nationalist party Ata Zhurt - whose leader was a minister under the former president - narrowly won the election with 8.47% of the vote.
The party has strong backing in the south among ethnic Kyrgyz and wants to go back to a presidential form of government.
Second with 7.83% of the vote was the pro-government Social Democrats, whose leader was one of the top members of Kyrgyzstan's provisional government that came to power in April.
The surprise victory of Ata Zhurt has been viewed as a snub to the provisional government.
Ata Zhurt must now form a coalition with one of the other parties.
Under the new rules, parliament will be the main decision-making body, and the prime minister will have more power than the president.
Interim leader Roza Otunbayeva will remain as acting president until 31 December 2011.
Kyrgyzstan hosts both Russian and US military bases, and is close enough to Afghanistan to serve as a supply hub for US troops.