Rare earths supply deal between Japan and Vietnam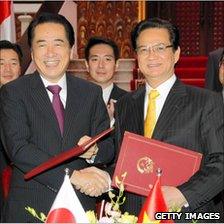 Vietnam has agreed to help supply Japan with rare earths, as Tokyo tries to reduce its dependence on China.
The two countries have also agreed on greater nuclear cooperation, with Hanoi virtually awarding Japan contracts to build two reactors in Vietnam.
China currently dominates the market in rare earth minerals, which are vital in the manufacture of high-tech goods.
But it has blocked shipments to Japan because of a row over the ownership of islands in the East China Sea.
Japan's Prime Minister Naoto Kan met his Vietnamese counterpart Nguyen Tan Dung in Hanoi on Sunday, after a series of Association of Southeast Asian Nations (Asean) meetings.
A joint statement read: "Prime Minister Nguyen Tan Dung announced that Vietnam has decided to have Japan as a partner for exploration, mining, development, and separation and production of rare earth minerals in the country."
The Japanese government believes it will win exploration rights for rare earth minerals in Vietnam's northwestern Lai Chau province.
The statement said Tokyo would provide financial and technical support for the rare earths development.
Prime Minister Kan told reporters: "These projects symbolise the start of a close relationship that sees (the two nations) as strategic partners over the long run."
China produces around 97% of the so-called rare earths used around the world to make goods such as mobile phones, computers, lasers, televisions and cars.
But China has been restricting exports of some products in recent years.
It then stopped shipments to Japan altogether, after a Chinese fishing boat captain was arrested near the contested islands in the East China Sea seven weeks ago.
The islands - known in Japan as Senkaku and in China as Diaoyu - are controlled by Japan, but claimed by China, in an on-going dispute.
The Chinese Foreign Minister Yang Jiechi gave assurances on Saturday that Beijing would remain a "reliable supplier" of the high-tech ores.
But Japan, the US and other countries have already started looking at ways to diversify their sources.
Japan and Vietnam have also agreed to work towards the early signing of a bilateral nuclear cooperation pact.
The joint statement released after the prime ministers met said: "The Vietnamese government chooses Japan as a cooperation partner to build two nuclear reactors".
A Japanese official said the move makes it highly likely that Japanese companies will get the contract.
Japan is the world's third-biggest nuclear power generator, and the government is keen to develop nuclear plants in fast-growing markets like Vietnam.
Related Internet Links
The BBC is not responsible for the content of external sites.