Indonesia tsunami: Better weather aids rescuers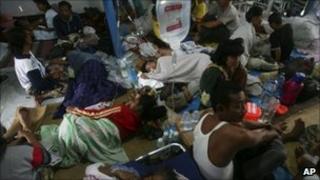 Improved weather conditions have allowed rescuers to step up their efforts to bring aid to survivors of a deadly tsunami in Indonesia.
The death toll has now risen to at least 435, although the number of missing has been halved after 135 people thought dead were found safe.
The tsunami hit the Mentawai islands on Monday after a 7.7 magnitude quake.
Meanwhile villagers are returning to the slopes of Indonesia's Mt Merapi after a lull in deadly eruptions there.
Heavy rains and high winds have been plaguing the rescue effort since the tsunami struck.
But relief official Joskamatir told Agence France-Presse news agency on Sunday: "The weather is better today, there's no rain. So we hope we will be able to send the supplies quickly. We're also expecting two more helicopters to arrive to air-drop relief supplies to remote areas."
On Saturday, 135 people thought to have perished were found hiding on higher ground, still afraid to return to the coastal villages.
One farmer on South Pagai island, Theopilus, 42, told AFP: "We're in dire need of more food, tents and blankets. I feel really cold at night as it rains all the time."
More than 23,000 people have been displaced by the tsunami.
About 100 are still thought to be missing.
Meanwhile on the slopes of Mt Merapi in central Java, hundreds of villages were returning to check homes and farms amid a lull in the volcanic activity that killed 36 people last week.
However, scientists say the volcano could burst back into life at any time.
Government volcanologist Subandrio said: "We will even have to evaluate whether we need to widen the exclusion zone because we should not downplay the threat. Mount Merapi is extremely dangerous."
A violent eruption shortly after midnight on Friday poured down ash in Yogyakarta, some 30km (19 miles) away, although no new deaths were reported.
Some 50,000 people are still in temporary shelters.
More than 2,000 troops have been deployed to the area.
The government has pledged millions of dollars for the relief effort.
The vast Indonesian archipelago sits on the Pacific Ring of Fire, one of the world's most active areas for earthquakes and volcanoes.
More than 1,000 people were killed by an earthquake off Sumatra in September 2009.
In December 2004, a 9.1-magnitude quake off the coast of Aceh triggered a tsunami in the Indian Ocean that killed a quarter of a million people in 13 countries including Indonesia, Sri Lanka, India and Thailand.