Spiritual guardian of Indonesian volcano dies
By Olivia Lang
BBC News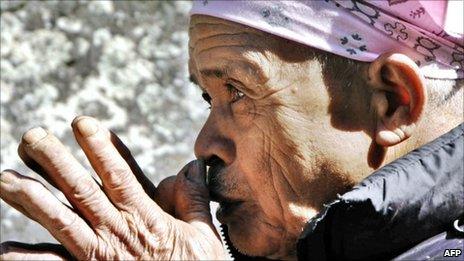 Even after an eruption alert was issued and most villagers on the slopes of Java's Mount Merapi had been evacuated, 83-year old Mbah (grandfather) Maridjan stayed put.
The spiritual "guardian" of the mountain, his battle to tame one of Indonesia's most active volcanoes ended on Wednesday when he was buried by the mountain's thick ash.
He was reportedly found dead in a prayer position in his house, as rescuers also dug out more than two dozen more victims in the area - many who had also refused to leave.
In the wake of the eruption, houses and fields were left blanketed in thick, white ash, while leaves had been singed off trees.
Villagers say they will mourn the loss of a respected elder who was as important to them as the mountain itself.
The mountain is seen as sacred in the region, seen as the home of ancient Javanese spirits.
Located on the outskirts of the city of Yogyakarta on Java Island, it regularly causes small eruptions in the area.
For years Maridjan had led ceremonies at the volcano, dispersing rice or flowers in or around the crater in an effort to appease spirits.
Maridjan believed he had a duty to the late sultan of Yogyakarta, Hamengkubuwono IX, who had appointed him for this purpose.
If there were to be an eruption, many villagers believed Maridjan would be warned in a vision.
Local beliefs are a mix of Islam, Indonesia's most predominant religion, and those dating from the island's Hindu-Buddhist period.
One tradition is the annual Labuhan ceremony, an auspicious event where the palace makes offerings to spirits, including the Goddess of the South Sea, Kanjeng Ratu Kidul.
It was Marijan who helped ensure such rituals were upheld.
It is not the first time the old man had defied warnings from the authorities about the volcano.
In 2006, when Mt Merapi last erupted, Maridjan even went closer to the crater, to meditate.
At the time, he told one journalist: "I'm not afraid because it's my duty.
"I'm like a soldier - they are never scared," he added.
Perhaps it came as less of a surprise then, when this time, despite government warnings, Mbah Maridjan decided that it was important to stay.
One rescue worker said that Maridjan was adamant in his refusal to leave his home village of Kinahrejo, just 5km (three miles) from the crater.
"I'm so used to being at home, it's better for me to just stay here and pray," Maridjan reportedly told him.
A journalist meanwhile perished trying to warn the old man to leave, according to local reports.
Maridjan was not the only one who could not bring themselves to leave, and rescuers say they fear the death toll may rise.
"I keep thinking about what's happening up there, with my cows, my property," said Hadi Sumarmo, who has a farm in Srumbung, a village 5km from the crater's mouth.
"I just want to go back to check. If I hear sirens, I'll get out again quickly."
For many survivors, the region will not be the same without their spiritual protector.
"To us, Maridjan is as important as Merapi. Now that he's no longer around, who's going to look after Merapi?" Wanto, 56, a farmer, told AFP news agency.
"What happens if there's another eruption?"
"We had known long before it happened that Mbah Maridjan would be taken by Merapi," the newspaper quoted Gusti Prabukusumo, the brother of the current sultan, as saying.
"Now that he's gone, we have to choose a new gatekeeper soon."
Related Internet Links
The BBC is not responsible for the content of external sites.