China's economic tightrope
By Jonathan Fenby
China director, Trusted Sources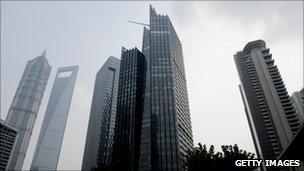 After three decades of runaway economic growth and a $2 trillion stimulus package to pull the country out of its downturn in 2008, China faces a new set of challenges as it seeks to consolidate its position as the world's second biggest economy.
The model adopted since the launch of market-led reforms in 1978 is no longer sufficient to ensure the country's continuing growth and a strong global presence.
That model was originally based on cheap labour, cheap capital and a benign export market to soak up cheap manufactured goods from the mainland.
In February this year, Li Keqian, who is likely to become prime minister in 2012, outlined a formidable list of tests ahead, from increasing energy efficiency to distributing wealth more equally.
In addition to that, the Five Year Plan, starting in 2011, will aim to boost domestic consumption to replace exports as the main drive of the economy.
It will also try to develop the production of advanced machinery, aircraft and energy saving and environmently-friendly equipment.
Though there has been progress in some sectors already, notably high-speed trains which China is now exporting, this is a long-term programme.
The effects of it may not be felt until the middle of this decade.
On the industrial front, a domestically-built 220-seat airliner will not be launched until 2015 as China will still have to import the engines from the West. At the same time, the vast programme to build a semiconductor industry will take several years.
Such industries will, in time, enable China to substitute home-made products for goods it now buys from abroad. This will pose a threat to suppliers in the West, Japan and Taiwan.
On the other hand, if China re-engineers too quickly, it will be unable to provide the 10 million new jobs needed each year to keep up employment levels.
But if the government protects low cost and labour intensive manufacturers, it will be holding back the necessary transformation laid out in the next Five Year Plan.
When it comes to labour cost, Beijing clearly supports increased pay for workers, at 38% - the share of wages in national income is much lower than in Europe or the United States.
The authorities, however, need to introduce an effective health service so that people do not need to save money in case they fall ill.
They also have to improve education and pension provisions, and modernise farming to improve the supply of agricultural products to avoid increased wages and an insufficient food supply adding to inflation.
Despite the growing focus on the domestic economy, exports remain important.
The trade surpluses, particularly with the United States and Europe, have been growing for the past three decades and have given China a foreign exchange reserve of more than $2.5 trillion.
Many of China's most advanced manufacturers, especially in the private sector, sell abroad.
For this reason, the authorities have been resistant to demands from outside for the country to increase the value of its currency.
That position is unlikely to change: China is already increasing the nominal value of the yuan by some 3% a year.
And the authorities have pointed out that, taking its inflation rate into account at a time of static prices in the West, the real increase in the value of its currency is considerably greater.
The danger is that this will lead to protectionist reactions.
Beijing and Washington have already imposed duties on goods, such as steel fasteners and chicken parts - a US export sector that caters to the Chinese liking for poultry feet.
As the US and some European countries move towards elections in 2011-12, politicians may be tempted to attack China's monetary policy as the cause of unemployment and cut away at the mainland's freedom to export.
In late 2012, China will undergo a major change of its leadership personnel at a Communist Party Congress. But this will not alter the country's economic policies.
Despite a burgeoning private market for manufactured goods, the state still controls around three-quarters of the economy (including its ownership of land).
Monetary policy is mainly set administratively, rather than through interest rates.
Every company of any size contains a Communist Party cell that can veto major decisions.
If this means China remains a "big state" economy, its consensus style of leadership probably means that not much will change in the way economic decisions are made in an ever-changing world.
But the strength of regional and sectoral interests - and the relaxation of society on an individual basis - makes the economy increasingly hard to direct.
This was visible through the trouble the government has had this year in checking property price rises.
So there is a tendency to put off decisions affecting a host of deeper issues: privatization of farm land, liberalization of the movement of labour, loosening of capital controls, allocation of more cash to local authorities to pay for health, education and pension, and the freeing up of prices of energy and water.
All these would involve the central state relaxing its grip.
Reformers believe such progress can only be achieved through political and legal reform.
The Prime Minister, Wen Jiabao, unexpectedly made such connection in his remarks in August but the leadership as a whole seems set on keeping to the path of pursuing "socialism with Chinese characteristics".
For the present and future chiefs of China, there are quite enough economic uncertainties ahead, not to want to add a structural change to the equation for the coming years.
That, in time, may prove a long-term weakness.
Jonathan Fenby is China Director of the emerging economies research service, Trusted Sources (www.trustedsources.co.uk) and author of the Penguin History of Modern China