Thai bomb-making site searched after fatal explosion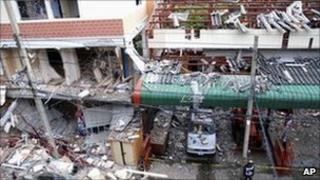 Police in Thailand say an explosion in an apartment block which killed four people was caused by a bomb going off while it was being assembled.
They say they have found other bomb making equipment and weapons in the wreckage.
The bomb exploded on the second storey apartment of the building, which was in a province just north of Bangkok.
The police suspect the incident may be connected to other small bomb attacks in and around the Thai capital.
They add that the attacks of recent months are politically motivated.
It took several hours before police were able safely to enter the badly damaged building.
But when they did, they found a rifle, ammunition, batteries and metal cylinders stuffed with fertiliser - indications, police say, of a bomb attack in preparation.
Investigators are working on the theory that at least one bomb may have exploded prematurely before it had been moved to its intended target.
The evidence was found in a room rented by a man who police say took part in anti-government protests in Bangkok earlier this year.
It is not clear if the suspect is among those killed by the explosion.
The incident came on the day that the government extended emergency law in Bangkok and surrounding provinces for another three months, citing fears of further unrest.