Dutch court dismisses Indonesian president arrest call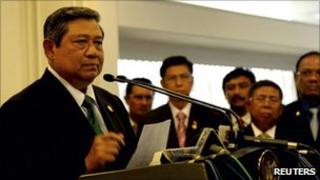 A Dutch court has rejected a Moluccan separatist group's bid to have the Indonesian president arrested while in the Netherlands.
President Susilo Bambang Yudhoyono was due to start his state visit on Wednesday.
He cancelled the trip after the Republic of South Moluccas (RMS) group asked The Hague District Court to order his detention
A spokesman for the court said the request had been denied.
Indonesian authorities crushed the RMS after it declared independence in 1950.
It was revived following the fall of President Suharto in 1998, and is currently based in the Netherlands, Indonesia's former colonial power.
The group holds President Yudhoyono responsible for the alleged mistreatment and torture of detained Moluccan separatist activists.
Human rights groups have criticised Indonesian authorities over restrictions on freedom of expression. Activists have been given lengthy prison terms for as little as raising a separatist flag.
Mr Yudhoyono was reportedly already on board his plane at Jakarta's airport when he decided to cancel the state visit.
He told reporters: "For Indonesia and for me, if the court was opened at the time of my visit there then it concerns our pride and honour as a nation, therefore I decided to postpone this visit."
The Netherlands government expressed its regret at the decision and said it had reassured the president he would have diplomatic immunity.
It is not known whether the president will reschedule his visit.