New Zealand broadcaster Paul Henry suspended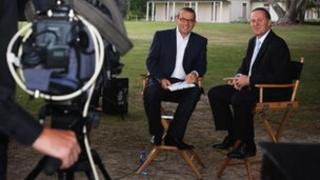 A television presenter in New Zealand has been suspended for suggesting on air that the country's governor-general was not a proper New Zealander.
Sir Anand Satyanand was born in New Zealand to Indo-Fijian parents.
Presenter Paul Henry provoked a storm of criticism by asking the Prime Minister, John Key, whether the next governor-general would look and sound more like a New Zealander.
An aide to Sir Anand said he would not dignify the comments with a response.
Sir Anand, who was born and raised in Auckland, is coming to the end of his five-year term as governor-general.
Further controversy
In an interview on Television New Zealand's Breakfast on Monday, Henry, to the prime minister's obvious discomfort, asked whether Sir Anand was a "real" New Zealander.
"Is he even a New Zealander?" Henry asked. ''Are you going to choose a New Zealander who looks and sounds like a New Zealander this time?''
The exchange provoked some 600 complaints and a regular contributor to state broadcaster TVNZ pulled out in protest.
Henry - who has a history of making controversial remarks - apologised for his remarks but was later suspended until 18 October.
Henry's employer had provoked further controversy by appearing to suggest that the presenter was simply voicing what many people thought.
The prime minister has also been criticised for not objecting more strongly to Henry's line of questioning.
At the time, he attempted to laugh them off by asking Henry if he was after the job when Sir Anand's term ended.
He said later: "Fundamentally, [the comments] are just plain wrong."