Fiji's ex-PM Mahendra Chaudhry released on bail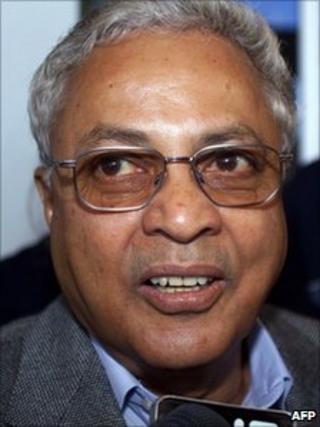 Fiji's former Prime Minister, Mahendra Chaudhry, has been released on bail after being charged with breaching the military government's emergency laws.
Mr Chaudhry, leader of the opposition Labour party, was detained on Friday for allegedly holding an illegal public gathering.
He and five others are to appear in court again on Wednesday; Mr Chaudhry says they will fight the charge.
His government was overthrown in a coup 10 years ago.
Mr Chaudhry was detained after a meeting with sugar farmers in Rakiraki, on the northern coast of Viti Levu, Fiji's largest island.
The sugar industry is a sensitive topic for Fiji's military government, after attempts to modernise the production process backfired and resulted in losses.
Mr Chaudhry said he did not have to enter a plea but intended to fight the allegations.
"The charge as it was read out in the court is that we assembled at one of the accused's residences unlawfully," he was quoted by AFP as saying.
"We'll certainly be defending ourselves. We had no unlawful purpose in mind."
Opposition voice
Mr Chaudhry became Fiji's first ethnic Indian leader in 1999 after the Labour Party won enough seats in a general election to rule on its own.
He and his cabinet were taken hostage a year later when bankrupt businessman and nationalist George Speight and retired major Ilisoni Ligairi stormed the parliament.
Mr Speight proclaimed himself acting premier, and President Ratu Sir Kamisese Mara sacked Mr Chaudhry and his cabinet.
Mr Chaudhry is one of the main opposition voices in Fiji, where the media is heavily censored and political parties cannot issue statements seen as destabilising the regime of Voreqe Bainimarama, who seized power in the 2006 coup.
Mr Bainimarama imposed emergency regulations which ban public meetings when he abrogated the constitution in April 2009.
In July, Mr Chaudhry appeared in court on other charges, including money laundering and tax evasion.