North and South Korea agree to more family reunions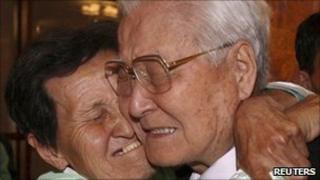 North and South Korea have agreed to hold another round of reunions of families split by the countries' war in the 1950s, officials say.
One hundred families from each side of the border will be allowed to meet their relatives from 30 October at a mountain resort in the North.
There are no communications across the border for ordinary citizens.
The meetings would be the first since the South accused the North of sinking one of its warships in March.
Officials from the two sides also agreed to hold another round of talks later in October to discuss how to hold the reunions on a more regular basis, South Korea's Unification Ministry spokeswoman Lee Jong-joo said.
The last reunions were held in October 2009.
The agreement comes after military officials from the two sides failed to make any progress in their first meeting in two years.
In the talks on Thursday, the North warned that it might fire artillery rounds over the border at South Korean activists who release leaflets criticising the Pyongyang government, North Korea's official media said.
Analysts are also poring over the significance of the elevation of North Korean leader Kim Jong-il's third and youngest son to two senior positions at a rare meeting of the ruling Workers' Party conference this week.
It is widely believed that Kim Jong-un is being groomed to succeed his ailing father as the North's ruler.
Millions of people were separated from their families during the chaos of the 1950-53 Korean War. The North and South are still technically at war because the conflict ended in an armistice and no peace treaty was signed.
About 20,000 families have been permitted brief reunions since a landmark inter-Korean summit in 2000, but the Red Cross-brokered programme has been a hostage of the fluctuating relations between North and South.
For many families, though, time is running out - South Korean officials estimate that up to 4,000 people on the waiting list die each year.