Japan imposes 40% cigarette tax increase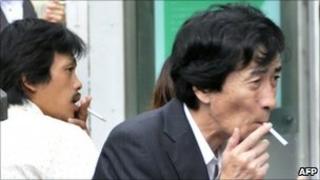 Japan's government has imposed the biggest tax increase on cigarettes the country has ever seen.
The price of the most popular brands is rising on Friday by about 40%, from 300 yen ($3.60; £2.30) to 410 yen ($4.90; £3.10).
The aim is to encourage smokers to quit, in a country with a reputation as one of the most smoker-friendly places in the industrialised world.
But instead smokers have been busy stocking up on cigarettes.
Lighting up is still allowed in restaurants and bars in Japan, and many offices have smoking rooms.
More than one in three Japanese men smoke, although only 12% of women do.
But now the government has put up the tax on cigarettes by 40%.
The aim is to encourage smokers to give up, and surveys show that 60% are thinking of doing so.
But not just yet. The convenience store chain Family Mart reported that sales nearly doubled in the weeks before the price rise.
And the biggest producer, Japan Tobacco, shipped an extra 12 billion cigarettes, one month's supply, to meet demand.
"We are expecting a rush, especially the day before the price hike," a spokeswoman for Lawson, a chain of convenience stores, told the AFP news agency.
"Each shop has expanded its cigarette stock."
There have been predictions that the hoarding by smokers may even boost Japan's economy, adding up to 0.6% to consumer spending in the three months from July-September.