China frees three Japanese detained in 'military zone'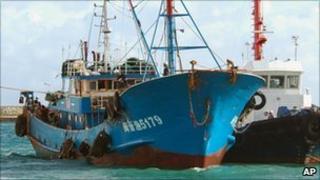 China has freed three of four Japanese nationals detained a week ago amid the worst diplomatic row between Beijing and Tokyo for years.
The men were accused of intruding into a restricted military area in Hebei, and those released admitted violating Chinese law, Chinese state media said.
The fourth man is being investigated for allegedly filming military sites.
It follows the seizing by Japan of a Chinese fishing boat and its crew after a collision in disputed waters.
The spat, which started on 7 September in the East China Sea, has led Beijing to suspend high-level contacts with Tokyo.
"We hope Japan can... stop making irresponsible remarks and safeguard the larger interests of bilateral relations with concrete actions," said China's foreign ministry spokeswoman Jiang Yu.
"We are willing to resolve our disputes through friendly negotiations but the Chinese government's and people's will and resolve are unswerving on issues involving China's territorial integrity and sovereignty."
Islands row
The Japanese employer of the four men - a Tokyo-based construction company - said they had been preparing a bid to dispose of chemical weapons left in China by invading Japanese forces at the end of WWII.
The three Japanese nationals released on Thursday admitted to violating Chinese law, Xinhua news agency said.
Japan's media identified the fourth man as 57-year-old Sadamu Takahashi.
A government spokesman said it was not clear why the men had been detained and that China had been asked for a detailed account of the incident.
The BBC's Martin Patience, in Beijing, says the release should help ease tensions between China and Japan.
Tensions have been high since Japan detained a Chinese captain, who Japanese prosecutors suspected may have rammed the patrol ships deliberately.
The trawler was sailing in an area claimed by both countries, near uninhabited islands which may have rich oil and gas deposits.
The captain was released after two weeks. China has demanded a formal apology. Japan has refused, instead insisting that China must pay damages to cover the repair of its two patrol vessels.