No progress at Koreas military talks, says Seoul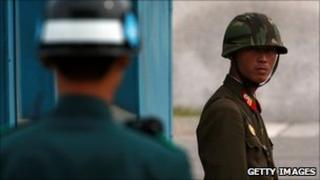 The first military talks between North Korea and South Korea in almost two years aimed at easing tensions have ended without progress, Seoul says.
Officers from each side met at the truce village of Panmunjom.
Seoul has accused Pyongyang of torpedoing its warship, the Cheonan, in the Yellow Sea in March with the loss of 46 sailors - a charge it has denied.
Meanwhile, North Korea's vice-minister for foreign affairs has insisted its nuclear weapons are for self-defence.
Pak Kil-yon told the UN General Assembly in New York that the warheads would not be abandoned as long as US aircraft-carriers "sailed around the seas" of North Korea.
The US and South Korea have held a series of joint military exercises since the Cheonan incident, prompting the North to threaten to retaliate.
The BBC's John Sudworth in Seoul says that the talks ending without progress is not a surprise given the large number of thorny and intractable issues between the two sides.
Flood aid
Before Thursday's talks in the Demilitarized Zone (DMZ), the South Korean defence ministry said the North had wanted to discuss their disputed maritime borders and anti-North Korean leafletting by activists.
It responded by saying the agenda should also include the North's alleged responsibility for the sinking of the Cheonan, officials said.
Inter-Korean military talks were last held in October 2008.
In recent weeks there have been signs of improvement between the two sides, with the South announcing it would send aid to its neighbour, which has been hit by severe flooding.
The North meanwhile returned a detained Southern fishing boat and its seven crew, and proposed a resumption of reunions for separated families.
Meanwhile, the youngest son of the North Korean leader, Kim Jong-il, was on Wednesday given two top-level jobs in the ruling Workers' Party, following his elevation to the military rank of general.
Correspondents say it is another sign that Kim Jong-un, who has never held any public position, is being lined up to succeed his father.