Malaysian teenage father jailed for dumping baby in bin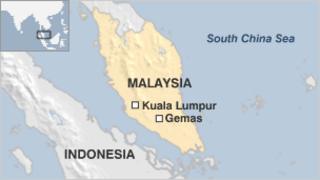 A Malaysian 18-year-old has been jailed for two years for dumping his newborn baby in a bin, as officials crack down on parents abandoning babies.
Mohd Zolhalmi Khamis said he dumped the baby shortly after his girlfriend gave birth in a factory toilet.
The baby survived and has been returned to the 17-year-old mother, who was given two years in juvenile detention.
Malaysia is trying to tackle a rising trend of abandoned babies - more than 60 have been found so far this year.
Prosecutors said they hoped the sentences would send a message to people across the nation.
"We are hoping that it could set an example, and the society will be aware and think twice before committing this offence," said prosecutor Farah Wahida Mohamad Nor.
The state-run Bernama news agency reported that the couple, from Gemas, south-east of Kuala Lumpur, were the first couple to be charged under a law banning intentionally abandoning a child below the age of 12.
The agency reported that the teenage mother cried in court, asking to be spared detention as she was still breastfeeding the baby.
About 100 babies are found abandoned each year in Malaysia - many of them dead.
Analysts believe many of the infants are abandoned by single mothers, scared of being shunned in a country where sex before marriage is considered taboo.