China warns Nobel committee not to honour dissident Liu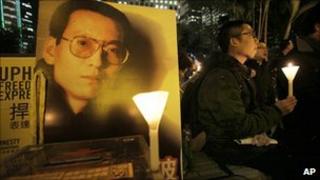 China has warned the Nobel Peace Prize committee not to award the prize to well-known dissident Liu Xiaobo.
The Chinese foreign ministry said giving him the prize would be against Nobel principles.
Mr Liu is serving a long prison sentence for calling for democracy and human rights in China.
A foreign ministry spokeswoman told reporters in Beijing that Liu Xiaobo was serving a jail term because he had violated Chinese law.
Awarding him the Nobel Peace Prize would send the wrong message to the world, the spokeswoman said.
It would run contrary to the aims of its founder to promote peace between peoples, and to promote international friendship and disarmament, she added.
Mr Liu is serving an 11-year prison sentence for drafting Charter 08, which called for multiparty democracy and respect for human rights in China.
The ruling Communist Party perceived this to be a threat against it.
More than 100 Chinese scholars, lawyers and campaigners have urged the Nobel Peace Prize committee to honour him this year.
The former Czech president, Vaclav Havel, has also voiced his support for the campaign.
Trade talks
The head of the Norwegian Nobel Institute, Geir Lundestad, said on Monday that a senior Chinese official had warned him that awarding the peace prize to Liu Xiaobo would affect relations between Oslo and Beijing.
China and Norway are now engaged in talks over a bilateral trade deal, which some say could serve as a blueprint for an agreement between China and the European Union.
Energy-rich Norway is also keen to export its offshore exploration know-how to China.
The Norwegian oil firm Statoil said last month that it was hoping to look for shale gas in China.
China was furious when the exiled Tibetan spiritual leader, the Dalai Lama, won the Nobel Peace Prize in 1989, the year of the Tiananmen Square crackdown by Chinese authorities on protesters.
The government tried to exert pressure on the committee last year when another dissident, Hu Jia, was nominated for the prize.
The committee will announce this year's winner in 10 days.