Australian soldiers charged over Afghan civilian deaths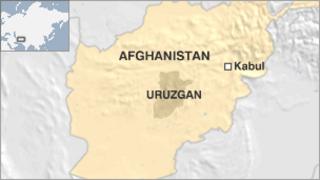 Three Australian former special forces soldiers have been charged over an operation in Afghanistan in which six civilians died and four were injured.
The ex-commandos conducted a night-time raid in February 2009 on a residential compound in Uruzgan province, where a Taliban leader was said to be hiding.
It is alleged they attacked the wrong house. Five of the dead were children.
The charges include manslaughter and dangerous conduct. It is not clear if all three will face the same charges.
The men, who have not been identified, were part of a Special Operations Task Group.
'Informed consideration'
The charges have been laid by the director of military prosecutions, and also include failing to comply with a lawful general order and prejudicial conduct.
In a statement released the day after the attack, the Australian Defence Department said the deaths had occurred as soldiers conducted what it called "clearance operations" using gunfire and hand-grenades.
It also claimed that the soldiers had been fired on by Taliban insurgents during the raid, and had returned fire in accordance with their rules of engagement.
Following a lengthy investigation, Australia's director of military prosecutions said the charges had been laid against the former commandos after "careful, deliberate and informed consideration".
Two of the soldiers said they planned to strenuously defend themselves.
In a statement issued via their lawyers, the men said: "Words will never adequately express our regret that women and children were killed and injured... These were people we were risking our lives to protect."
They blamed the "callous and reckless act" of the suspected insurgent in the compound for the deaths.
"This forced us to make split-second decisions, under fire, which almost certainly saved the lives of our fellow Australian and Afghan soldiers," the statement said.