Burma's Aung San Suu Kyi 'on voters' list'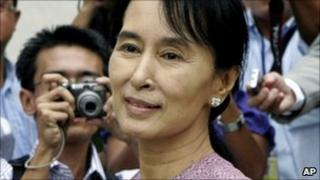 Burma's detained pro-democracy leader Aung San Suu Kyi is on a voters' list for the first general election in 20 years, eyewitnesses have told the BBC.
Ms Suu Kyi's election victory in 1990 was annulled by Burma's military junta.
She is under house arrest and was at first excluded from the electoral roll.
Eyewitnesses say her name is now on a follow-up list for her ward in Rangoon. There has been no official comment, and it is not clear if she would be allowed out to cast her vote in November.
The development comes as Burma's military rulers are attending an annual UN General Assembly meeting in New York.
Many Western nations and the UN are critical of Burma's poor human rights record and refusal to hand over power to Ms Suu Kyi's party in 1990.
Analysts say Ms Suu Kyi's inclusion would have little impact on the outcome of the vote. She has told dissatified citizens that they do not have to participate in the 7 November polls.
Her National League for Democracy party was forced to disband under new election laws.
BBC Burmese journalist Soe Win Than says most people believe that the same faces that rule Burma now will be in power after the polls.
The government has founded its own political party - the Union Solidarity and Development Party - headed by the incumbent prime minister.
Some 25% of seats are guaranteed under the new constitution for the military, which means unelected military officers will sit in parliament.