Charred scars of southern Kyrgyz violence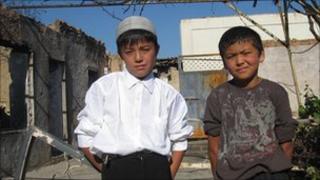 "This is where we used to live," says 12-year-old Shohruh pointing at the charred remains of his house.
Between four scorched walls he describes where things used to be in his room.
"We used to pile blankets in this corner and my bed was right here. We had a stove over there. It's all been burned."
Shohruh's house is one of 168 that were torched in Sharq, a predominantly Uzbek neighbourhood of Osh, in June.
Nearly 50 people died in this area alone, including his friend Islam's father.
"Some lost a parent, others lost their homes. We see our relatives crying, but we just tolerate it all," says Islam.
The school where the boys used to study was also destroyed in the violence. There is a bulldozed hole where it once stood.
Although the government has begun the process of rebuilding it, in the meantime up to 700 children are now taking classes in a tent school set up by the UN's children's fund (Unicef).
"These kids were traumatised, bored, they were anxious. Putting them into a school setting, even if it is a temporary one like this - it brings some level of stability," says Laetitia Lemaistre, an education specialist at Unicef.
But stability for the rest of the Sharq community seems a long way off.
A walk along the main road offers a grim picture: torched houses, piles of rubble, burned cars and clouds of dust kicked up by every passing vehicle.
Pushing his two-wheeled cart full of rubble, Tahir stops to catch his breath. His family is one of many currently living in tents.
"Those who have money left for Russia or Uzbekistan. But the poorer ones stayed behind and are now clearing up this mess. The UN is helping us to build temporary houses, but we don't know if they will be finished before the winter. It's already too cold in the tents."
Impasse
The violence in Osh came after weeks of political turmoil in Kyrgyzstan. The violent change of power in the capital Bishkek was later followed by inter-ethnic conflict in the south.
More than 400 people died and over 2,000 houses were destroyed. Uzbek neighbourhoods were overwhelmingly the target in what appear to have been well-organised pogroms.
But the Kyrgyz community also suffered losses. Outside of the mayor's office in central Osh, there is board with dozens of photographs of young Kyrgyz men who went missing during the violence.
In the nearby yurts - traditional Kyrgyz felt tents - their mothers have been holding daily vigils for the last three months.
"My son went missing on his birthday June 16th. He did not go to fight, but went to greet our president who came that day to Osh.
"His decapitated body was found several days later. But his head has not been found yet. It's been three months and no-one was caught or put on trial yet," says one of the Kyrgyz mothers, Dilbara Kochkonova.
Another woman sitting next to Dilbara says the Kyrgyz people are shocked by stories of brutal killings committed by Uzbeks.
"Lots were killed, maybe around 200 people. People were burned; ears, legs, heads cut off."
An elderly Kyrgyz man says his son and grandson were killed in the violence, and he still cannot go back to his house which is in a predominantly Uzbek area.
Justice?
Both communities still have bitter feelings towards each other, and what really happened during those days remains very unclear.
The arrival of an international police force from the Organisation for Security and Co-operation in Europe which was tasked with rebuilding trust between the communities has been postponed due to strong opposition from leading politicians and nationalist movements.
An international inquiry into the events has also stalled. The investigation by local security forces has been slow, and rights groups have been alarmed by allegations of police brutality and ethnic bias in its conduct.
Human Rights Watch has documented numerous examples of ethnic Uzbeks being the target of detention and torture.
Local lawyer Tatyana Tomina shows photographs of her clients. They have been severely beaten while in detention. She says most of those arrested in relation to the June violence are ethnic Uzbeks.
"In my experience I have seen only one Kyrgyz accused - and that was for car theft. I haven't seen any other Kyrgyz. I've just seen Uzbeks.
"In my experience they're not guilty. They are frightened, and denounce their own neighbours. They get arrested and beaten, and they cannot endure it."
In a television interview with the BBC, Marat Busurmankulov, Osh deputy prosecutor, strenuously denied the allegations.
"So far on the mass disturbances 2,371 criminal cases have been opened. About 80 people have been arrested. Among them are Uzbeks, Kyrgyz, and other nationalities. I haven't noticed any kind of bias."
But privately officials admit the vast majority of those detained were Uzbeks and say they believe only 30% of the crimes would be solved because of lack of witnesses.
Fragile Peace
Today Osh - a traditionally mixed town - has become a city of two divided communities. Suspicion and mistrust between Kyrgyz and Uzbeks remains.
The evidence of the recent events can be seen everywhere, as many cafes, shops and other businesses that were torched during the June riots have not been cleared.
Uzbeks are rarely to be seen in public places. Most seem to prefer to keep a low profile in their neighbourhoods, fearing for their security.
The Kyrgyz population also lives in fear of renewed violence as rumours spread about revenge attacks allegedly being prepared by Uzbeks.
Parliamentary elections are looming and the campaign is in full swing in many parts of the country. But few of the political parties talk of reconciliation between the two estranged communities.
Instead there appears to be no change in the fragile peace in the south.
In one of Osh's main streets is the monument to a celebrated 15th Century Uzbek poet Alisher Navoi.
His face has been smashed and a noose hangs around his neck. More than three months after the violence his arms lie broken on the ground. It is as if they were broken only yesterday.