Philippine officials in gambling kickbacks row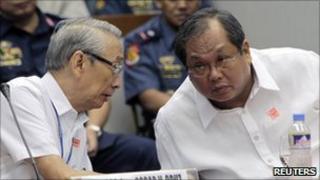 A group of senior officials in the Philippines have been accused of receiving kickbacks from illegal gambling operators.
A retired Catholic archbishop told a Senate inquiry that several officials, including a close friend of the president, had been paid tens of thousands of dollars in bribes.
They deny the claims. Illegal gambling is a heated issue in the Philippines.
Ten years ago it even contributed to the downfall of a president.
According to Archbishop Oscar Cruz, a group of senior politicians and members of the security forces have been given payoffs from operators of the illegal numbers game jueteng.
Among them are the former national police chief, Jesus Verzosa, and the deputy interior secretary, Rico Puno, a close friend of President Benigno Aquino.
Both the accused men deny the claims, but Mr Puno has offered to resign until his name is cleared.
It has not been a good week for either man. On Monday they were both criticised in the official inquiry into the hostage standoff last month, which left eight Hong Kong tourists dead.
They will know in the next few weeks if they face charges.
Jueteng is a widely popular game that was brought to the Philippines from China. Repeated efforts to stamp it out have failed, and its appeal spans all social classes.
This is not the first time senior officials have been accused of profiting from it.
In 2000, the former president Joseph Estrada was impeached for plunder and subsequently ousted from office.
Part of the accusation against him was that he received gambling kickbacks amounting to millions of dollars.