China's Premier Wen Jiabao enters Japan row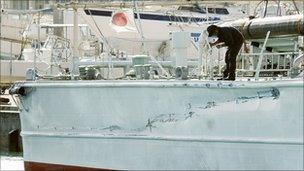 Chinese Premier Wen Jiabao has threatened "further action" against Japan unless it releases a Chinese sea captain, arrested in disputed waters.
In his first comment on the diplomatic row, Mr Wen said Japan bore full responsibility for the situation.
He demanded the immediate and unconditional release of the captain, in order to bring bilateral relations between China and Japan back on track.
China says it will not meet Japanese leaders at a UN summit in New York.
The Chinese foreign ministry said on Tuesday that a meeting between Mr Wen and his Japanese counterpart Naoto Kan on the sidelines of the summit would be inappropriate.
"The atmosphere is obviously not suitable for such a meeting," a spokesman said.
The Chinese premier's comments were his first on the issue that has also prompted Beijing to suspend government-level contacts with Japan.
Mr Wen said that Tokyo "bears full responsibility for the situation, and it will bear all consequences".
Meanwhile Japan's chief cabinet secretary told reporters that the two nations should continue to strengthen their ties despite the row.
"If possible, it would be good to quickly hold high-level talks, including broad, strategic discussions," Yoshito Sengoku told reporters.
Japan has warned China that both nations must avoid stirring up "extreme nationalism" and says it wants to use all possible channels to avoid any further escalation.
The dispute began two weeks ago when a Chinese fishing boat collided with two Japanese patrol ships near uninhabited islands in the East China Sea which both countries claim, as does Taiwan.
The islands, which lie north of Taiwan and south of Japan's Okinawa prefecture, have rich fishing grounds and may have oil and gas deposits.
The boat's captain was arrested on suspicion of deliberately ramming the vessels.
When a Japanese court extended his detention on Sunday for a further 10 days, China severed senior level government contacts.
A small group of Hong Kong activists tried to set sail for the islands on Wednesday, but were stopped by Hong Kong's marine police.