Typhoon Fanapi kills 18 in southern China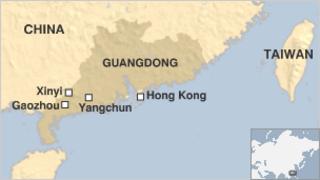 Eighteen people have been killed and at least 44 are missing after Typhoon Fanapi caused flooding and landslides in southern China, state media report.
The typhoon made landfall in Guangdong province on Monday, a day after it hit Taiwan, killing two people and leaving more than 100 injured on the island.
Five of the victims in China died after a dam at a mine burst, while two others were in a house that collapsed.
Meteorologists said the typhoon was the strongest to hit the country this year.
The China Meteorological Administration (CMA) forecast heavy or torrential rains for parts of central and western parts of Guangdong on Thursday. Fanapi is moving west at a speed of 10 km/h (6mph).
Local government officials said five people were dead, six missing and seven injured after a tailings dam at the Xinyi Yinyan Tin Mine in the Qianbai township of Xinyi burst, the state-run Xinhua news agency said.
Some 25 people were missing after a rain-triggered mudslide, the report said.
Flooding in Gaozhou has left two people dead and five missing, while in Yangchun three were dead and eight missing, Xinhua reported.
China suffers monsoon-type rains every year but this year's rainfall has been the heaviest in more than a decade.