Philippine radio station rejects bus hijack allegations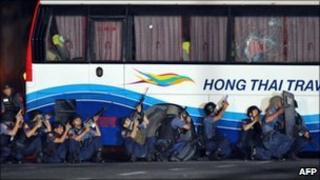 A Philippine radio station has rejected allegations that its live interviews with a hostage-taker hindered a police operation to rescue his captives.
Radio Mindanao Network was criticised in an inquiry into the stand-off, which ended with the deaths of the hostage-taker and eight Hong Kong tourists.
The report recommended charges against several journalists from the station.
A lawyer for the station told the BBC the reporters were being made scapegoats for police mistakes.
During last month's hostage standoff in a bus in central Manila, a reporter from Radio Mindanao Network managed to interview the hostage-taker on his mobile phone, before passing him on to a studio presenter for further questions.
The official inquiry into the incident states that, by doing this, the journalists monopolised the phone link to the hostage-taker and prevented police negotiators from talking to him.
The inquiry recommends that both journalists, as well as the station manager, should face charges.
But Aquilino Pimentel, the lawyer for radio station, insists the reporters have done nothing wrong.
He told the BBC that they were simply doing what their profession required them to do.
"I'm flabbergasted by what's happened," he said.
"The media were covering a legitimate incident. They shouldn't be put in a position where they can be charged with an offence.
"They're being used as scapegoats to cover up the ill-preparedness of police and negotiators."
Live coverage
The inquiry has also recommended charges against at least 12 people including several police officers and government officials, accusing them of negligence and incompetence.
The media has also been criticised for broadcasting live coverage of the stand-off, allowing the hostage-taker, disgraced ex-policeman Rolando Mendoza, to see what was going on around him from a TV inside the bus.
He was even able to see his brother being arrested, which officials say could have prompted him to open fire on his captives.
The 55-year-old hijacked a bus on 23 August, armed with an assault rifle, in an attempt to get back the job he lost in 2009 for extortion and threat-making.