Asylum seekers end Sydney rooftop protest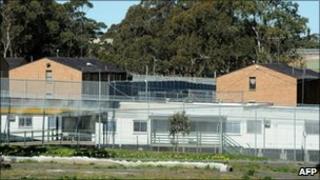 Nine asylum seekers in Australia have ended their protest on the roof of a Sydney detention centre after 29 hours.
The men, who are Tamils from Sri Lanka, had threatened to jump off the roof unless the Immigration Department agreed to review their applications.
The men came down after talks with officials from the UN's refugee body, which may now look into their cases.
The protest at the Villawood Centre followed the suicide of a fellow detainee from Fiji on Monday.
Josefa Rauluni, 36, jumped to his death hours before he was to be deported, refugee advocates say.
Mr Rauluni had been held at the centre since 17 August, officials said.
An immigration spokesman said the "circumstances surrounding his death are not yet clear" and that an investigation was under way.
'Seeking protection'
Throughout the 29-hour stand-off officials at the Villawood centre worked to try to coax the men down from the two-storey building.
A protester who spoke to the BBC's Sinhala service by phone said they agreed to get down after UN officials promised that they would not be deported and that they would review their cases.
The protester said the United Nations High Commission for Refugees (UNHCR) would look at the cases of the nine Sri Lankans and an Iraqi and an Afghan, who ended their protest earlier on Tuesday.
During their protest the men released a statement saying: "We are genuine refugees and came to Australia to seek protection - not to be detained in an unlawful way.
"This is a peaceful protest for freedom for refugees all around Australia and we will continue it," said the statement issued by Australia's Refugee Action Coalition, who were in contact with the protesters by phone.
Immigration officials said the protest would have no bearing on their claims for refugee status.
Earlier this month more than 80 asylum seekers broke out of a detention centre in the city of Darwin to stage a protest over conditions.
Under current Australian government policy, those who arrive by boat without valid documents are taken into immigration detention on Christmas Island or to centres on the mainland while their reasons for being in the country are verified.
So far during 2010 authorities have stopped boats carrying about 4,000 asylum seekers.