Philippine officials blamed in report on bus hijack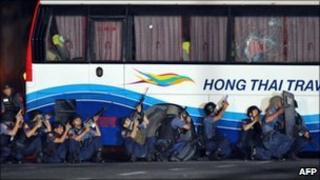 Philippines President Benigno Aquino says investigators have recommended charges against at least 12 people over a bus hijacking last month in which eight Hong Kong tourists were killed.
Mr Aquino said a former national police chief, the mayor of Manila and two journalists were among those found liable in a government-backed report.
A bungled attempt to rescue hostages, who were held for hours on a bus by an armed former policeman, caused outrage in Hong Kong and mainland China, straining diplomatic ties.
The report issued to the public did not contain the recommended charges or the identities of all of those implicated.
Repair relations
Listed among those who should be punished for the fiasco were three national broadcasting networks.
The media have been berated for broadcasting the incident live.
The hostage-taker had TV access on the bus and was able to watch as police operations unfolded.
He was even able to see his brother being arrested, which officials say could have prompted him to open fire on his captives.
The hostage crisis "will always be remembered by the whole world by the images of the debacle of the assault," the report said.
President Aquino said that the report had been handed to Chinese officials, and he hoped the recommendations would help repair relations.
The president is flying to the US to discuss business opportunities aimed at stimulating the Phillippine economy and said he would decide on whether to lay charges on his return.
But the BBC's Kate McGeown in Manila says he is likely to be doing all he can to restore the image of his country.
Disgraced ex-policeman Rolando Mendoza, 55, hijacked a bus on 23 August, armed with an assault rifle, in an attempt to get back the job he lost in 2009 for extortion and threat-making.