Fijian detainee jumps to his death at Australian centre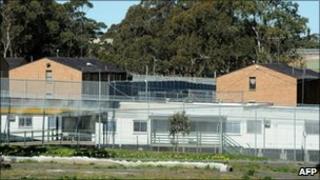 A Fijian man died after jumping from the roof of an Australian immigration centre hours before he was to be deported, refugee advocates say.
Josefa Rauluni, 36, had been held at Sydney's Villawood detention centre since 17 August, officials said.
An immigration spokesman said the "circumstances surrounding his death are not yet clear" and described his death as a "tragic incident".
The death has sparked a rooftop protest by Sri Lankan asylum seekers.
A group of up to seven Sri Lankan asylum seekers in their 20s has climbed the same building and are threatening to kill themselves, says refugee advocate Saradha Nathan.
"They are threatening to jump because they want confirmation from immigration that their applications are processed appropriately," Ms Nathan was quoted by The Australian as saying.
"This morning's incident was just too close to their reality."
The Refugee Action Coalition group said detainees at the centre said the Mr Rauluni had "thrown himself from the rooftop" of a building inside the 300-person compound.
He had been scheduled to be deported along with a younger relative, thought to be his nephew.
"The death of the Fijian man has thrown a stark light on mandatory detention and conditions inside the detention centres," said Refugee Action Coalition spokesman Ian Rintoul.
Mr Rauluni's death follows a series of suicide attempts and hunger strikes in Australian detention centres this year.
Earlier this month more than 80 asylum seekers broke out of a detention centre in the city of Darwin to stage a protest at conditions.
Under current Australian government policy, those who arrive by boat without valid documents are taken into immigration detention on Christmas Island or to centres on the mainland while their reasons for being in the country are verified.
So far during 2010 authorities have stopped boats carrying about 4,000 asylum seekers.
Prime Minister Julia Gillard is in talks over opening a regional processing centre for refugees in neighbouring East Timor.