'Islamist gunmen' kill 23 soldiers in Tajikistan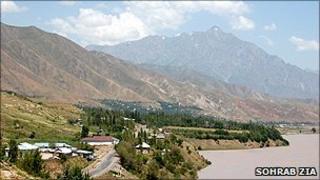 Islamist militants in Tajikistan have killed 23 soldiers in an attack in the east of the country, officials say.
A convoy was ambushed on Sunday in Rasht valley, about 250km (150 miles) east of the capital Dushanbe.
The soldiers were going to replace guards at roadblocks set up near the Afghan border after 25 militants escaped from a prison last month.
In the 1990s the Moscow-backed Tajik government fought a civil war with the Islamist-led opposition.
Defence Ministry spokesman Faridun Makhmadaliyev said several other soldiers were injured in the attack.
He linked it to a former opposition commander, Mullo Abdullo, and he said the gunmen were thought to have included militants from Afghanistan, Pakistan and Chechnya.
"These fighters, using the ideas of the Islamic faith as cover, wanted to turn Tajikistan into an arena for their internecine war by gathering radical underground groups around them," he said.
Troops and helicopters had been sent to the region to search for the militants, he added.
Tajikistan, the poorest Central Asian nation, is a majority-Muslim country established after the collapse of the Soviet Union.
The attack comes a month after a group of 25 prisoners - said to be Islamic militants - killed five guards and broke out of jail in Dushanbe.
Seven have been captured but 18 are still on the run.