School for pregnant teenagers opens in Malaysia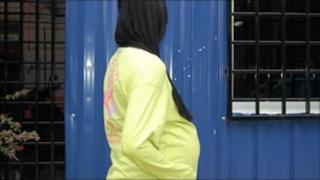 The first school for pregnant teenagers in mainly-Muslim Malaysia has opened, as part of an attempt to curb the rising number of abandoned babies.
Officials hope that the school in the southern state of Malacca will help young women to overcome the stigma of having children outside marriage.
As well as medical check-ups, students will receive religious counselling.
About 70 babies have been left on doorsteps, in rubbish bins and public toilets in Malaysia this year.
Social stigma
The school promises privacy and protection to pregnant teens as well as providing an education.
Anonymity is considered crucial as police believe it is mainly unmarried couples who are abandoning their babies in a desperate attempt to hide the fact that they had pre-marital sex.
Young people in Malaysia, especially Muslims, are expected to abstain until marriage.
Religious officials in Malacca also say they will approve the marriages of more girls under the age of 16, in order to legitimise their sexual relationships.
The stigma of pre-marital sex has even driven older women, like 28-year-old Mila, to give up babies for adoption.
"Even though I'm getting married soon, having sex before marriage is against Islamic tradition. If the baby knew he was born out of wedlock he will carry the shame for the rest of his life," she says.
But the Malaysian women's minister has come out against the idea of schools for pregnant teens.
Separating them from the mainstream school system will further stigmatise them, she told the BBC.
The root of the problem is the lack of sex education in schools.
The women's ministry has for years advocated that students be taught a health and reproductive course.
But religious groups have blocked the idea, saying it will only encourage more teens to get pregnant.