China favours trade not aid to meet development goals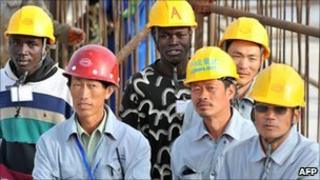 Trade not aid appears to be how China sees itself helping the world's poorest countries meet the Millennium Development Goals (MDG).
China says its contribution to developing countries involves encouraging its own firms to invest in poorer nations.
It also says it is opening its markets to imports from the least developed countries - thus helping their own economies grow.
This mirrors China's own path to increased prosperity: China is now richer because of similar economic measures introduced three decades ago.
The approach has its critics though. Some say Beijing's investment in poorer nations is more about developing the Chinese economy than helping others.
China's vision of how to help achieve global MDG targets was outlined days before a United Nations conference on the issue.
World leaders will attend a summit in New York next week to look at the progress made in achieving these targets.
'Create opportunities'
The MDG were adopted in 2000 in an attempt to dramatically reduce poverty, disease, hunger and premature death.
China - still a developing country itself with many poor people - is just one country aiming to meet the goals.
It is well on the way to achieving a number of those targets; some, such as reducing the death rate of children under five, have already been met.
China has also committed itself to helping other developing countries reach their targets, and appears to have a clear sense of how to do this.
Speaking at a press briefing about the forthcoming summit, Yi Xiaozhun, China's deputy minister of commerce, said Beijing did not see itself primarily as a provider of aid.
But he said it could help in other ways. "We encourage Chinese businesses to go to developing countries to invest," said Mr Yi.
"I believe this will help developing countries nurture their industries, increase taxation and help them create more jobs."
He explained that while global foreign investment had fallen by nearly half in 2009, China had slightly increased its spending abroad.
Nearly all of this $56bn (£36bn) figure was invested in developing countries.
Mr Yi added that in the future, China also hoped to offer zero tariffs on 95% of goods produced by the least developed nations.
"By opening our market wider to developing countries, we are helping them create more development opportunities," said the vice-minister.
'Impetus'
China's financial rise - it is soon expected to overtake Japan as the world's second-largest economy - has allowed it to solve many of the problems targeted by the MDGs and means it is now in a position to help others.
This stunning economic turnaround is revealed in China's relationship with the International Development Association, the World Bank's fund for the poorest nations.
China received money from the fund until 1999, but it is now a contributor.
The country's economic development path has many admirers, including Robert Zoellick, the World Bank's president.
In a comment article published by China's state-run news agency Xinhua, he wrote that the rest of the world had much to learn from Beijing.
"It is now the World Bank that can draw from China's experience and employ this knowledge with other countries to overcome poverty in the world," he wrote.
Not everyone though is convinced that China has the right approach to the developing world.
Some say China's trade with poorer nations is about Beijing securing raw materials and markets for Chinese manufactured goods, making it an unfair relationship.
But as Prof Barry Sautman, of the Hong Kong University of Science and Technology, pointed out, all world leaders extol the virtues of trade.
He added that Chinese firms were now starting to invest in factories and processing plants in many developing nations, something that would eventually help promote their own economies.
"At least it provides an impetus for industrialisation, rather than Western companies that do not invest as much in companies," he said.
Perhaps trade not aid will ultimately prove more important in helping developing countries.
"Many people make the argument that the billions of dollars of aid that have flowed into poor nations have been wasted," added Mr Sautman.