Chinese team arrives in Japan for dead panda inquiry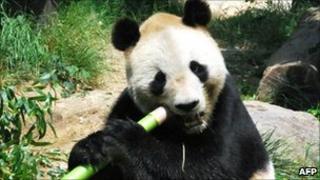 Chinese officials have arrived in Japan to investigate the death of a giant panda which was on loan to a zoo.
Fourteen-year-old Kou Kou died last week.
Chinese media report that he had been given an anaesthetic while vets tried to extract semen to help him breed with his partner, Tan Tan.
The panda's death has further strained relations which soured after a Chinese trawler collided with Japanese patrol boats in disputed waters.
The investigators will try to find out whether Kou Kou died of an overdose of sedatives and, according to reports, could seek $500,000 compensation.
But it is not yet clear whether the Chinese authorities will press Japan for payment.
Bad timing
Kou Kou, or Xing Xing in Chinese, arrived at Oji Zoo in the western city of Kobe in 2002.
Zoo officials twice succeeded in impregnating his partner, although on both occasions the cub died.
A Chinese veterinary expert in Sichuan province told The People's Daily in Beijing that September was not a proper time to extract semen because pandas seldom generated it during the autumn.
"They only mate from March to May, and once the spring is over, there is little chance of collecting semen," said the official.
The panda's death has added to the sense of crisis in diplomatic relations between Japan and China.
China is unhappy that Japanese prosecutors are considering whether or not to charge a trawler captain for his role in a collision in the East China Sea.
Until now, the two countries have both benefited from the loan of pandas.
Oji Zoo had signed a five-year extension to keep Kou Kou in Kobe and continue its research on breeding.
Last July, Ueno Zoo in Tokyo came to an agreement to receive a pair of pandas from China in a deal worth almost $1m a year for the next decade.
China's forestry administration is responsible for the loan of pandas to overseas zoos.
Giant pandas are a highly endangered species, with only 1,600 remaining in the wild and fewer than 300 others in captive breeding programmes.
Five pandas have died in captivity this year, reports say.