South Korea mulls North military talks offer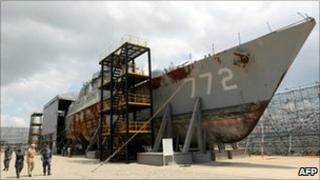 South Korea says it is considering a proposal from North Korea to hold their first military talks in almost two years.
The defence ministry in Seoul said the North wanted to discuss the disputed sea-border and anti-North Korean leafletting by activists.
Relations between the two Koreas were severely strained when the South blamed the North for sinking its warship.
Forty-six South Korean sailors died when the ship went down in March.
South Korea's defence ministry said it was assessing the offer.
"Taking into consideration that North Korea has not admitted to, or apologised for, sinking the Cheonan, the government is reviewing the North's proposal cautiously," a statement said.
Inter-Korean military talks were last held in October 2008.
Cross-border ties have been extremely tense since international investigators said a North Korean torpedo sank the Cheonan warship near the disputed inter-Korean maritime border.
But in recent weeks there have been signs of improvement, with South Korea announcing it will send aid to the flood-hit North.
Separately, military officials from North Korea and the US-led United Nations Command have held their fifth colonel-level meeting since July on the warship sinking.
The two sides had agreed to meet again, a UN spokesman said, without giving any further details.