State of emergency ends in quake-hit Christchurch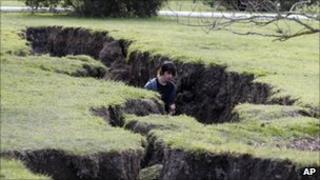 Authorities in New Zealand have lifted a state of emergency in Christchurch, almost two weeks after a powerful earthquake devastated the city.
But officials said rebuilding and restoration work would continue for as long as needed.
And police said they would continue to maintain a highly visible presence in the city to reassure residents.
Aftershocks continue to shake the region in the wake of the 4 September earthquake.
At least seven aftershocks were felt by residents on Wednesday night before the state of emergency was lifted at midday on Thursday.
It has been estimated that earthquake, with a magnitude of 7.1, will cost New Zealand NZ$4bn (US$2.7bn; £1.8bn).
Some 100,000 houses were damaged, with 500 buildings to be demolished.
Christchurch Mayor Bob Parker said that ending the state of emergency represented a move "closer to business as usual".
"This doesn't change the fact that many people are still facing great difficulties, and resolving these issues will continue to be a focus as we rebuild our region," he said.