Gillard sworn in as Australian prime minister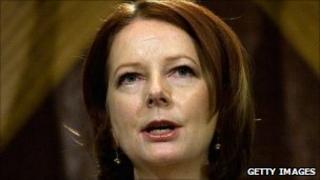 Australia's Prime Minister Julia Gillard has been sworn into office, making her the first woman elected to the post in the nation's history.
She called an election after ousting former PM Kevin Rudd in an internal Labor party revolt in June.
Last month's poll produced a hung parliament, forcing Ms Gillard to seek the backing of independents and Greens to form a government.
Mr Rudd has been sworn in as foreign minister.
"I, Julia Eileen Gillard, do solemnly and sincerely affirm and declare that I will loyally serve the Commonwealth of Australia in the office of prime minister," she said in the ceremony in the Australian capital, Canberra.
Her cabinet includes her deputy, Treasurer Wayne Swan, and former pop star Peter Garrett, who switches from environment to education. Former Foreign Minister Stephen Smith moves to defence.
Analysts say her majority of one in the 150-seat lower house of parliament will force Ms Gillard to negotiate issue-by-issue with the opposition Liberals.
Ms Gillard has promised a 30% tax on iron ore and coal mining companies' profits, a tax on major polluters to help cut carbon emissions by 5% in 10 years and a broadband network for rural areas.