Japan PM Naoto Kan survives leadership challenge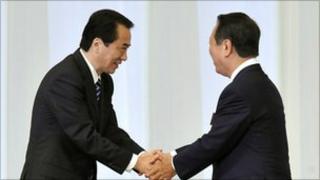 Japanese Prime Minister Naoto Kan has survived a party leadership challenge from veteran MP Ichiro Ozawa.
Lawmakers and members of the governing Democratic Party of Japan (DPJ) elected to retain Mr Kan by a margin of 721 points to 491.
His victory means that Japan will be spared a sixth leadership change in four years.
Mr Kan, who took office in June, has said he wants to rein in spending and curb Japan's massive public debt.
As his victory was confirmed, the yen hit a new 15-year high against the dollar. The strong yen has hit Japanese exporters but Mr Kan has indicated that he is unlikely to intervene in the near future.
Party unity
Analysts had expected a tight contest, with Ichiro Ozawa backed by a large DPJ faction.
In the end, Mr Kan secured a small majority among party lawmakers and was convincingly ahead in the vote from DPJ local lawmakers and party members.
His task now is to secure the support of Mr Ozawa's faction, as well as revitalising Japan's struggling economy.
Speaking after the vote, he appealed for party unity.
"Japan is currently in serious difficulty. We must rebuild Japan to make a healthy Japan again in order to hand it to the next generation, and I will stake my life to do the job and gain support from the people," he said.
Mr Kan has said that he wants to raise consumption tax, restrict government spending and cap borrowing.
He has also said he will honour a controversial deal with the US to relocate the unpopular Futenma US military base from central to northern Okinawa, although many details remain unconfirmed.
But he faces a struggle in parliament, because he does not have a majority in the upper house.
It is not clear what role Mr Ozawa - who is credited with positioning the DPJ for its unprecedented election victory last year - will now play in the party.
Some analysts have suggested he could break away from the DPJ and form his own party.