Profile: Ichiro Ozawa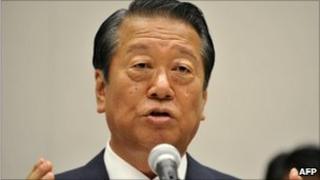 Ichiro Ozawa is a highly influential politician known within the ruling Democratic Party of Japan as the "shadow shogun".
He led the charge against Prime Minister Yoshihiko Noda over the sales tax hike, which passed in June 2012, and then broke away from the party, taking his allies with him.
He previously led the DPJ until May 2009 and was credited with positioning it for victory in polls just three months later, ending a half century of almost continuous rule by the Liberal Democratic Party.
But the man who appeared on course to become prime minister had to step down before the elections because of a funding scandal.
This did not deter him from pursuing an unsuccessful leadership challenge against then Prime Minister Naoto Kan, accusing him of mishandling June's upper house elections.
He then went on trial in Tokyo on charges of breaking political fundraising laws, but was cleared in April 2012, paving the way for a return to front-line politics.
While he commands the respect of a sizeable faction in parliament, he remains unpopular with the electorate because of his gruff manner and perceived links to pork-barrel politics.
Scandal-hit
Ichiro Ozawa began his career as an LDP politician. His father was an MP and former prime ministers acted as his mentors.
But in 1993 he chose to leave the LDP, upsetting the parliamentary balance and briefly forcing it from power.
Establishing a series of small parties, he set about trying to advocate modernisation and more assertive diplomacy towards the United States.
In 2003, he merged his Liberal Party with the DPJ, which by then was becoming a more credible force in politics.
Named DPJ leader in 2006, he led the party to a landslide victory in upper house elections in 2007, and was widely expected to do so for the lower house elections a year later.
But a funding scandal proved his undoing. One of Mr Ozawa's senior aides and two company executives were arrested for political funding law violations.
Mr Ozawa initially dismissed the allegations as politically motivated, insisting that he would remain as party leader.
But in the end he had to stand down, and watch Yukio Hatoyama lead the DPJ to an unprecedented election victory.
'Clean DPJ'
Mr Hatoyama appointed him DPJ secretary general, a position from which he played a major role in the party's policy-making.
But Mr Hatoyama's approval ratings plummeted over his failure to deliver on a promise to halt a controversial US base relocation plan in Okinawa.
Meanwhile public concern over the claims against Mr Ozawa was growing.
When Mr Hatoyama stood down in July 2010, he asked Mr Ozawa to resign too, saying he wanted "a fresh and clean DPJ" to emerge.
So Mr Ozawa stepped down, and his decision two months later to challenge Naoto Kan for the leadership came as a shock.
In the end, Mr Kan secured a small majority among party MPs and was convincingly ahead in the vote from DPJ local politicians.
Mr Ozawa retreated to the backbenches but remained a powerful force within the party. When Mr Kan stepped down, he backed the trade minister, Banri Kaieda, for the leadership, but Mr Noda won through.
Ichiro Ozawa then went on trial over the funding scandal and was cleared of wrongdoing in April 2012. Three of his former aides were convicted in connection with the case.
He returned to the political stage and became a vocal opponent of Mr Noda's sales tax rise. When it passed in parliament, he and his allies submitted their resignations to the party. Many expect him to form a new party.
Mr Ozawa is known as both a scrapper and a survivor - and he is expected to remain a key figure in Japanese politics.