South Korea outlines aid to flooded North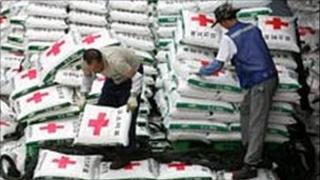 South Korea says it will deliver rice and other aid to North Korea within a month, amid some signs of a thaw in relations between the two neighbours.
The aid, proposed by Seoul last month, will be the first since the March sinking of a South Korean warship.
Seoul says North Korea sank the ship, but Pyongyang denies this.
The announcement comes two days after North Korea proposed holding new reunions for families divided by the partitioning of the Korean peninsula.
'We've been hit'
South Korea said the aid would include 5,000 tons of rice, 10,000 tons of cement and three million packs of instant noodles.
North Korea relies on food aid to feed its people, and it has also been hard-hit this year by flooding.
The head of South Korea's Red Cross also suggested holding talks with the North at the end of the week on resuming the family reunions, following the North's offer over the weekend.
The steps could indicate an upturn in a relationship which has been extremely tense since the Cheonan sinking in March.
Forty-six South Korean sailors died when the ship went down near the disputed inter-Korean border on 26 March.
On Monday, Seoul released the full version of its report into the incident, including communications on board the vessel.
Minutes after the incident, Captain Won-il is heard reporting to superiors: "I think we've been hit by something." Asked what, he responds: "I think it's a torpedo."
Investigators said they hoped the 289-page report would "serve as the basis for accurately understanding the truth regarding the sinking of the Cheonan".
Leader 'ill'
In a separate development, a South Korean television station has reported that the start of a rare party conference in North Korea has been delayed because of leader Kim Jong-il's ill health.
North Korea had said that the delegates would convene for the first time in 30 years in early September, without giving a specific date.
Many analysts expect the meeting to give some indication of who will succeed Kim Jong-il.
But the meeting does not appear to have convened yet. South Korea's YTN television said that this was because Mr Kim's health had deteriorated following his trip to China last month, citing an unidentified intelligence official.
Mr Kim, 68, is believed to have had a stroke in 2008.