New Zealand inquiry into defence official's 'false' CV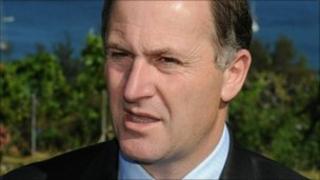 New Zealand Prime Minister John Key has ordered an inquiry into how a defence official accused of making up details about his background was given the highest level of security clearance.
A TV investigation accused Stephen Wilce, a senior defence scientist, of falsely claiming he was an ex-British commando and Olympic bobsleigher.
Mr Wilce, who was director of New Zealand's Defence Technology Agency (DTA), resigned last week.
He headed a staff of 80 for five years.
The DTA provides intelligence to the military on technological and scientific matters.
Cool Runnings
Mr Wilce stepped down after an expose by TV3's 60 Minutes alleged he had falsified details of his accomplishments.
Among Mr Wilce's more colourful claims was that as a member of the British bobsleigh team he had raced against the Jamaican team, who inspired the 1993 film hit Cool Runnings.
60 Minutes reported that no record existed of Mr Wilce serving in the Royal Marines, and that no-one on the 1988 British bobsleigh team had heard of him.
The report highlighted failures by the recruitment agency Momentum Consulting to pick up discrepancies in Mr Wilce's CV.
It also raised questions as to why the alleged lies were not picked up by the Security Intelligence Service (SIS), which was supposed to vet him.
Mr Key has asked the public service watchdog State Services Commission to look into the checks made by the SIS.
In a statement, the Momentum Consulting Group said all its candidates were thoroughly vetted.