Australia outlaws pro-euthanasia TV advert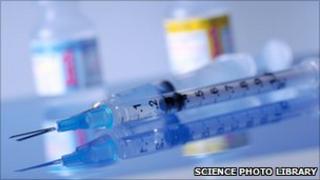 Australia has outlawed a television advertisement in favour of euthanasia - the first in many years to challenge a legal ban on the practice.
In the advert, a gaunt-looking actor speaks of intolerable suffering and urges the government to listen to those who wanted to die with dignity.
Regulators say it promotes suicide, which is illegal in Australia.
The group behind the campaign, Exit International, told the BBC it would fight for its reinstatement.
In the banned advertisement, an actor plays a man reflecting on his life and of being struck down by a terminal illness, while pleading to be allowed to die with dignity:
"I chose to marry Tina, have two great kids. I chose to always drive a Ford. What I didn't choose was being terminally ill. I didn't choose to starve to death because eating is like swallowing razor blades.
"And I certainly didn't choose to have to watch my family go through it with me. I've made my final choice. I just need the government to listen."
Restart the debate
Permission for the advert to be broadcast has been withdrawn by regulators on the grounds that it promotes suicide.
In 1996, the Northern Territory government introduced the world's first voluntary euthanasia law, which was overturned by federal authorities in Canberra eight months later.
Dr Philip Nitschke, the director of lobby group Exit International, says it is time to restart the debate with a new generation of Australians.
"The Northern Territory brought in legislation 15 years ago which was the world's first but now there's many models to copy from," he says.
"We've got legislation in Holland, Belgium, Luxembourg, Montana, Washington and Oregon. They're all relatively similar. They're all working."
It has been more than 10 years since an advert supporting voluntary euthanasia was shown on Australian television. It featured a woman suffering from bladder cancer appealing for the right to die.
Six months later, however, her disease went into remission and the patient's case was quickly adopted by the anti-euthanasia lobby.