New Zealand quake no-go zones remain amid aftershocks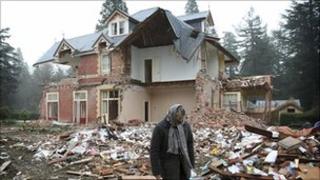 New Zealand has delayed plans to lift no-go zones in quake-hit Christchurch after major aftershocks were felt.
Christchurch's mayor had hoped to reopen the city centre following last weekend's 7.1-magnitude earthquake but new tremors halted the plan.
"We're erring on the side of caution," Mayor Bob Parker told local media.
The city has been under a state of emergency since Saturday's quake, the total cost of which is estimated at NZ$4bn (US$2.7bn; £1.8bn).
The Treasury's figure is almost double initial estimates, after the government agreed to pay a subsidy to quake-hit businesses to allow them to continue to pay wages.
Some 100,000 houses were damaged, with 500 buildings to be demolished.
Exclusion zones enforced by the police and military were expected to be removed at 0500 on Friday (1700 Thursday GMT).
But Mayor Parker said they would remain in place following the tremors. More than 100 aftershocks have rocked the area since Saturday.
"We've lost nobody in this event and the controllers and everybody else working here want it to stay that way," he told Radio New Zealand
Mr Parker said the no-go zones would be scaled back over the next few days.
"We've got to send a message that the majority of the city is open for business and people are in some ways getting back to their lives," he said.
Readers of the BBC News website in Christchurch have been describing the impact the aftershocks are having on their lives. Here is a selection of their comments.
This is an amazing city - the response services have been astonishing, everything recovered very quickly. Water came back and sewers were repaired. We know all is well: the vintage trams are trundling round again - they go right past our house which we notice now though we didn't before. But still we are all a little on edge. Simon Leese, Christchurch
All my favourite shops are condemned or shut. All the beautiful buildings in the area are gone. It is very sad to see Christchurch in this state, but I am grateful that there has been no loss of life. Sami, Christchurch
The no-go area was lifted today, but as an inner city dweller and worker I have had access to parts of it anyway. The damage here is patchy - huge tracts of our city look completely normal and then there are the bad bits. Things are slowly getting back to normal in the city, though my workplace has been evacuated out of the main city area. Businesses are likely to reopen next week. The aftershocks have many of us on edge, though they have reduced since the weekend. People who have lost their homes in the suburbs are hardest hit, though we in the city are grieving for some of our favourite buildings. Anonymous, Christchurch
The whole city hasn't been destroyed. I live five kilometres from the city centre and all I lost was sleep. There are one or two houses in the area I live in that have minor damage. However, some eastern suburbs have been devastated. Mark, Christchurch
Only a small part of the city centre was cordoned off today, but lack of access has been a problem for some businesses in the central business district. The civil defence workers have done a remarkable job in restoring normality to the city, especially as they had to reassess a number of buildings after the violent aftershock on Wednesday morning. The aftershock count is now close to 300. Ian Collins, Christchurch