Japan extends China boat captain's detention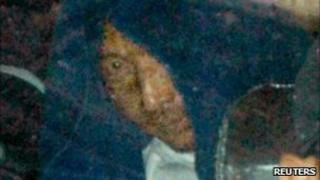 Hours after China demanded the release of a Chinese boat captain detained in Japan, a Japanese court has ruled he can be held for a further 10 days.
China's foreign minister summoned the Japanese ambassador for the third time in four days to demand that the captain and his crew be freed.
Their trawler collided with two Japanese patrol boats near disputed islands in the East China Sea.
Japan has accused the captain of deliberately ramming the patrol boats.
There were no injuries, and the two Japanese vessels sustained minor damage.
The Chinese captain, Zhan Qixiong, can now be kept in custody until 19 September before authorities decide whether to press charges, a Naha District Court spokesman said.
This development is the latest twist in an escalating diplomatic row between the two countries.
The area where the Chinese boat was seized is close to uninhabited islands, known as Senkaku in Japan and Diaoyu in China, which are controlled by Japan, but are also claimed by China and Taiwan.
'Serious impact'
In recent years, Chinese activists have sailed to the islands on a number of occasions to assert China's territorial claims.
Beijing has said it is sending a law enforcement ship to the area.
The foreign ministry said this was to safeguard order in the fishing zone and protect the safety of Chinese fishermen and their assets, according to local media.
Beijing has warned of a "serious impact" on relations if the situation is not resolved.
Earlier on Friday, China's Foreign Minister Yang Jiechi told the Japanese ambassador that "the Chinese government's determination to safeguard the sovereignty of the Diaoyu islands and the nation's people is firm and steadfast".
It comes a day after China's foreign ministry described Japan's handling of the incident as "absurd, illegal and invalid".
Analysts say this latest incident is unlikely to disrupt Japan-China ties but it underscores the inevitable tensions as China's maritime ambitions grow.