China U-turn on enforced power cuts in Hebei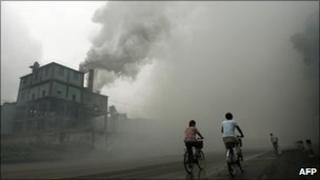 Thousands of people in China are to have their electricity restored after the reversal of an order for enforced power cuts to meet energy-saving goals.
Officials in Hebei province ordered local governments to maintain normal power supplies for residential users.
Hospitals, schools and homes in Anping county have suffered intermittent cuts.
China overtook the US last year as the world's biggest energy consumer, but with a bigger population it is still well behind in consumption per person.
The figures were released by the International Energy Agency.
Factory closures
The local government in Anping cut power to homes and other public facilities, including switching off traffic lights, in a bid to meet its 2010 energy efficiency goals set by Beijing, local media reported.
Residents and workers have endured day-long blackouts over the past two weeks, according to reports.
However, Beijing said cutting household power did not conform with central government policy and ordered supplies to be restored.
Blackouts and enforced power cuts are said to be affecting industry in Hebei province, which accounts for a quarter of the country's total steel production capacity.
Some 57 blast furnaces and production lines have been closed since 4 September to save energy.
China's energy-efficiency goals include a 20% reduction in energy consumption per unit of economic output, or energy intensity, by the end of the year.
Last month Beijing ordered more than 2,000 factories to shut by the end of September because it said they were wasting too much energy.