'Friendly fire' suspected in Philippines siege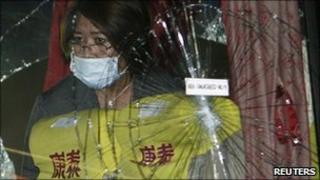 Investigators in the Philippines say police may have accidentally shot some of the hostages who were killed during a Manila bus hijacking last month.
Eight tourists from Hong Kong were shot dead during a chaotic rescue attempt in which the hijacker was also killed.
The head of the inquiry said there was a strong possibility that at least some of the hostages may have been killed by "friendly fire".
The conclusions of the official inquiry are expected in a matter of days.
China has called for a fair and comprehensive report.
Forensic evidence clash
Disgraced ex-policeman Rolando Mendoza, 55, hijacked a bus on 23 August, armed with an assault rifle, in an attempt to get back the job he lost in 2009 for extortion and threat-making.
In all, 20 Hong Kong tourists and two guides were taken hostage, along with three Filipinos - a driver, a guide and a photographer.
Nine people were released in early negotiations, but 15 were kept aboard the curtained bus for hours as the hostage drama was played out before live television cameras and broadcast around the world.
Police say the eight tourists who lost their lives were shot by the hijacker during the rescue operation.
However, Justice Secretary Leila de Lima said on Thursday that "there is a big possibility that there [was] friendly fire".
Ms de Lima also said the forensic reports on some of the victims did not match the account of the driver of the bus, who told investigators the gunman shot the tourists at close range.
The government inquiry has heard hours of witness testimony, examined forensic evidence and even staged a re-creation of the police assault in its efforts to establish the facts of the operation.
Survivors and experts have criticised the Manila police for being indecisive and slow in their handling of the crisis.