Japan says it may intervene to curb yen's rise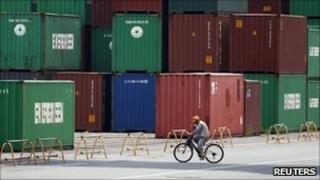 The Japanese yen has hit a new 15-year high against the dollar, despite hints that the government will take action to curb its strength.
It rose to 83.4 yen versus the dollar, adding to concerns that the currency's rise was holding back exports and the general health of the economy.
Japan's finance minister had dropped a strong hint on Wednesday that it would act to push the yen lower.
But investors ignored the comments, and continued to push the yen higher.
Sterling is also at similar levels against the yen compared with 15 years ago, at 129 yen to the pound.
The euro stands at 93 yen.
The finance minister, Yoshihiko Noda, told parliament they would closely communicate with the international community and that the ministry was currently taking steps on this front.
He promised to act firmly if necessary, saying that "in the end, we will take decisive measures including intervention when needed".
Figures out on Wednesday showed a strong rise in Japanese machinery orders in July, up by 8.8%, but these did not ease concerns over the damage being caused to the export sector by the yen's strength.
The yen's surge hit stocks, with the Nikkei index, which fell more than 2%.