Ampatuan family 'plotted Philippines massacre'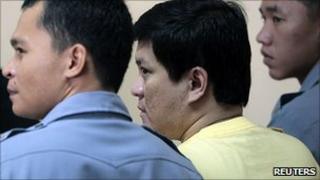 A powerful family accused of being behind the worst political massacre in the Philippines plotted the killings over dinner, a court has heard.
The witness, a former house servant, said the family had discussed killing their political rivals six days before the ambush in which 57 people died.
He quoted key suspect Andal Ampatuan Jnr as saying "just kill them all".
Lakmudin Saliao took the stand on the first day of the trial nearly 10 months after the massacre.
The dead included many female members of a rival political family, the Mangudadatus, as well as 30 reporters travelling with them.
Andal Ampatuan Jnr sat impassively in the special courtroom built inside a police jail in southern Manila as he listened to the testimony, reports say.
He denies multiple charges of murder arising from last year's mass killing.
Five other members of the Ampatuan family - including the patriarch Andal Ampatuan Snr - are among 196 people facing charges related to the massacre.
Lakmudin Saliao, 33, said he had worked for the Ampatuan family for more than 20 years.
He told the court that Andal Ampatuan Snr had asked his children over dinner how to stop Esmael Mangudadatu from filing his candidacy papers for provincial governor.
'Everybody laughed'
The Ampatuan clan had ruled Maguindanao for more than a decade. At the time of the killings Mr Ampatuan Jnr was a local mayor.
"That's easy, let's kill them all," Mr Saliao quoted Mr Ampatuan Jnr as saying.
Mr Saliao said the elder clan leader had asked his other children if they agreed and "everybody laughed, saying it's OK for everybody to be killed".
The trial went ahead on Wednesday after lower court judge Jocelyn Solis-Reyes rejected an appeal by Mr Ampatuan Jnr's lawyers to postpone the start of the hearing for 10 days.
Judge Solis-Reyes had already delayed the start date by seven days to allow Mr Ampatuan's lawyers more time.
The 57 bodies were found in a mass grave last November in a remote mountainous area of Maguindanao, a province on the southern island of Mindanao.
Among the victims was the wife of Esmael Mangudadatu, Toto, who had been on her way to file his election candidacy papers.
Mr Mangudadatu was later elected governor in the May 2010 elections. He had sent his wife, sisters and other female relatives to file his papers in the belief that their lives would be spared.
Alleged abuses
At a bail hearing in January, witness Rasul Sangki said a roadblock had been set up, the victims put on to a lorry at gunpoint and taken to a mountainside, where they had been killed by Mr Ampatuan Jnr and his men.
He said he had seen Andal Ampatuan Jr shoot people at close range.
The Ampatuans had effectively ruled Maguindanao for years, and had political ties with the former President Gloria Arroyo.
Human Rights Watch says people with knowledge of alleged abuses by the Ampatuans have been killed since last November, including a key witness to the massacre.