Christchurch shaken by severe aftershock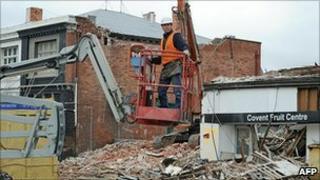 The New Zealand city of Christchurch has suffered its most damaging aftershock since a powerful earthquake at the weekend.
The 5.1 magnitude tremor cut power, further damaged buildings and sent frightened residents into the streets.
Regular aftershocks have hit the area since Saturday's 7.1 quake, but Wednesday's was more damaging because of its shallow depth.
A state of emergency has been extended for a further week.
It had been due to expire on Wednesday.
City Mayor Bob Parker has appealed for calm and urged residents to avoid travelling.
He said the intensity of the latest tremor reduced many emergency workers to tears.
"It was a devastatingly, vicious sharp blow to the city," he told NewstalkZB.
"This was a terrifying moment. We have just had to evacuate our Civil Defence headquarters. We have got staff in tears, we have got fire engines going through the middle of the city, power is out and a lot of people are very, very churned up by that."
A reporter for New Zealand's TV One station described Wednesday's aftershock as "sharp and very sudden".
Roger Sutton, chief executive of power company Orion, told the station that "quite a lot of power" had been lost as a result but he anticipated having systems up again quickly.
'Big jolt'
Christchurch City Council spokeswoman Diane Keenan described it as "a really big, stiff jolt".
"It was vertical rather than side to side like the first one. If you were in a car the road moved up and down," she said.
It was centred 10km south-east of Christchurch at a depth of 6km, the GeoNet agency reported.
New Zealand's ministry of civil defence has warned that an aftershock of up to 6.0 magnitude is possible in the next few days.
Saturday's earthquake caused widespread structural damage, but there were no fatalities.
Some of Christchurch's most historic buildings have been damaged beyond repair and are to be pulled down.
More than 100 aftershocks have rocked the area since Saturday.