North Korea accepts flood aid offer from South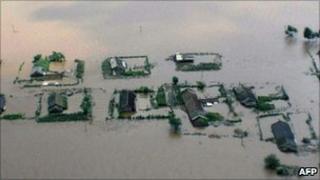 North Korea has responded to an offer from South Korea of emergency food and medical aid, saying it would prefer to receive rice and building materials.
The South Korean offer, worth more than $8m (£5m), was made last week after severe flooding in the North.
South Korea says it is considering the North's request.
The aid would be the first large-scale shipment since South Korea blamed its impoverished northern neighbour for sinking one of its warships in March.
South Korea blames Pyongyang for sinking the Cheonan with a torpedo, killing 46 crew.
North Korea denies any role in the incident and has demanded its own investigation.
Food aid
North Korea's Red Cross said it would prefer rice, cement and heavy construction equipment - items it said were necessary for flood recovery efforts, according to Seoul's Unification Ministry and Red Cross.
The South's offer excluded rice - a staple which Seoul has stopped sending to Pyongyang amid strained relations.
North Korea has been hard hit by floods caused by heavy rains in July and August, especially in its northern areas bordering China.
This week a South Korean newspaper published pictures of people sleeping in tents and queuing for water in the city of Shinuiju.
They were taken by an undercover source who also reports rare public complaints that the North Korean leadership is not doing enough to help.
North Korea has now released a fishing boat along with its South Korean and Chinese crew, which it detained one month ago after it is thought to have crossed into its waters.
Analysts say it is a sign that the divided sides are talking behind the scenes and may return to formal talks.
Under President Lee Myung-bak, the South has stepped back from its earlier "sunshine" policy of unconditional aid and has linked aid instead to progress from the North on ending its nuclear programme.
North Korea has reportedly indicated it is ready to return to six-party talks over ending its nuclear ambitions.
The talks - which involve the two Koreas, China, Russia, Japan and the US - have been stalled since December 2008 over Pyongyang's missile and nuclear tests.
But South Korea is demanding an apology for the warship sinking before any return to the negotiations.