Australia poised for 'kingmaker' MPs' decision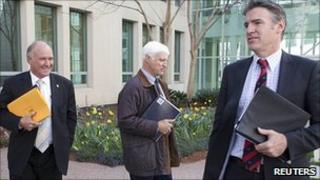 Three independent Australian MPs who hold the balance of power in the lower house of parliament are due to decide who will be the next prime minister.
The three MPs, who represent rural constituencies, say they are finalising their negotiations with both sides.
There has been political deadlock in Australia since last month's inconclusive election.
Caretaker Prime Minister Julia Gillard is hoping her Labor Party can cling to power.
Opposition leader Tony Abbott, who made an unexpectedly strong showing in the election, says he will offer a better deal to the Australian bush and outback.
With negotiations over the formation of the next government now in their third week, there is growing public impatience with the rural-based MPs - dubbed the three amigos - to reach their decision.
As things stand, the parliamentary arithmetic could hardly be more finely balanced.
The conservative opposition has 73 seats. The Labor government, which has the backing of another independent and the Greens' sole MP, has 74.
Cautiously confident
Needing just two more seats to form an overall majority, Ms Gillard probably has more reason to be cautiously confident of reaching a deal with the three independents - Bob Katter, Rob Oakeshott and Tony Windsor.
Some conservatives have publicly all but admitted defeat, but the kingmakers been very guarded about their intentions, and could still yet be influenced by the simple fact that they represent fairly conservative-minded constituencies in the Australian bush and outback.
All three say they want a stable and effective government that will last the full parliamentary term, and have worked together as an informal voting block.
But there is still the possibility that they might ultimately go their separate ways, which raises the spectre of a dead-heat - and a quick return to the polls.