Malaysia jails man who smuggled 95 snakes on a plane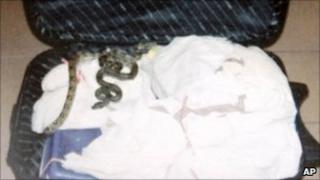 A notorious wildlife trafficker has been sentenced to six months in jail in Malaysia for attempting to smuggle 95 boa constrictors in his luggage.
Anson Wong, nicknamed the "Lizard King", had put the endangered snakes in a suitcase and attempted to smuggle them to Indonesia by plane.
The boas shared the bag with two rhinoceros vipers and a matamata turtle.
Mr Wong also has to pay a fine of 190,000 ringgit ($61,000).
Mr Wong pleaded guilty to attempting to smuggle the animals from the Malaysian island state of Penang to the Indonesian capital Jakarta on 26 August.
He managed to take the suitcase with the snakes on his first flight from Penang.
But he was arrested in transit at Kuala Lumpur airport when staff were alerted to his bag, which had burst open on a conveyor belt.
Protest
Wildlife groups in Malaysia criticised the sentence for Mr Wong, who had faced a maximum penalty of seven years and a fine of up to one million ringgit.
The wildlife trade monitoring organisation Traffic Southeast Asia said the sentence was disappointing and that it "tells wildlife traffickers that they have little to fear from the law".
"We hope the Ministry of Natural Resources and the Environment will appeal for a tougher penalty in this case," Traffic regional director William Schaedla said in a statement.
The conservation group WWF-Malaysia called on the Malaysian government to revoke Mr Wong's licence to trade in wildlife.
Mr Wong was convicted for wildlife smuggling in the US in 2001 and sentenced to 71 months in jail, the US justice department said.