Tajikistan suicide car bomb injures 25 in Khujand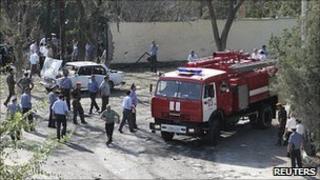 A suicide bomber has driven a car packed with explosives into a police office in Khujand, northern Tajikistan.
Twenty-five people, most of them police officers, were injured when the vehicle exploded at 0800 local time (0300 GMT), killing the bomber.
The blast destroyed parts of the police headquarters and shattered windows in surrounding buildings, officials said.
Several police officers are missing, feared dead in the rubble, AFP news agency reports.
Prison break
Khujand, a city of around 150,000 people, lies in a mountainous area about 340km (211 miles) north of the capital, Dushanbe.
The attack is the latest in a series of security breaches in the volatile republic, which shares a border with Afghanistan and is a conduit for smuggling Afghan opium.
The blast occurred just a day after President Emomali Rakhmon sacked his security chief following a prison break last month in which 25 al-Qaeda-linked militants escaped.
Tajikistan had a five-year civil war between its Moscow-backed government and Islamist-led opposition. The war ended in 1997.